If you mention the words "Final Fantasy" to anyone they'll probably have at least heard of it even if they're not entirely sure why or what it is. That's the power of this truly epic game series that has been part of popular culture for nearly four decades.
The first Final Fantasy game was released way back in 1987and since then, the franchise has become a behemoth (pun fully intended!) in the world of video gaming . There are now 16 mainline Final Fantasy games but with the many spin-offs and sequels there are in fact 109 titles.
If you want to know more about the games themselves then have a read of Devon Lambert's articles, "Counting the Stars: How many Final Fantasy Games Are There?" and "Paying homage to the Epic Final Fantasy Dragoon Character". Both of these fantastic articles will give you a greater understanding of this epic game series and the many characters and worlds it spans.
In this article though, I'm going to take you on a journey through the episodes and sagas by means of a 3D printer. That's to say, I'm going to show you some truly awesome Final Fantasy 3D prints that you won't want to miss and will hopefully be able to print for yourself.
So, without further ado, let's start looking at what I've found for you. There are certain standout "hits" in the franchise which will definitely get a mention but bear in mind that the models I show might not be in order of where they appear chronologically.
Final Fantasy 3D Prints
1. Tifa Lockhart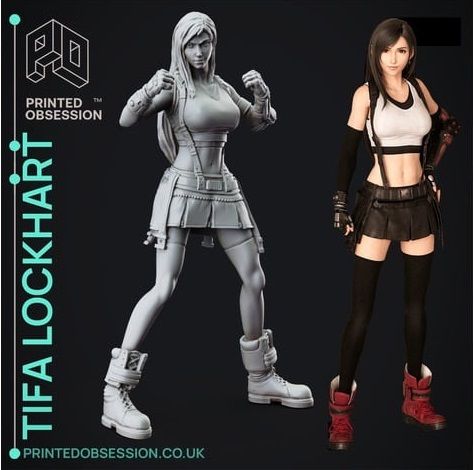 Bio: A member of the anti-Shinra militant group Avalanche. Tifa manages Seventh Heaven, a bar located in the Sector 7 slums. A student of Zangan-style martial arts, she can clobber opponents with her fleet-footed combat techniques.
Franchise Appearances: Tifa Lockhart is a recurring character in Final Fantasy VII, appearing as a playable character in both this and the remake version. She also makes numerous appearances in novels and other games related to the franchise. As such, it's fair to say that Tifa Lockhart is a firm fan favourite.
3D Model: The model I've chosen of Tifa Lockhart has been designed by Printed Obsession who have kindly added it to Thingiverse to download for free. The design and character likeness are outstanding and this would make a great addition to any Final Fantasy 3D print display.
2. Lightning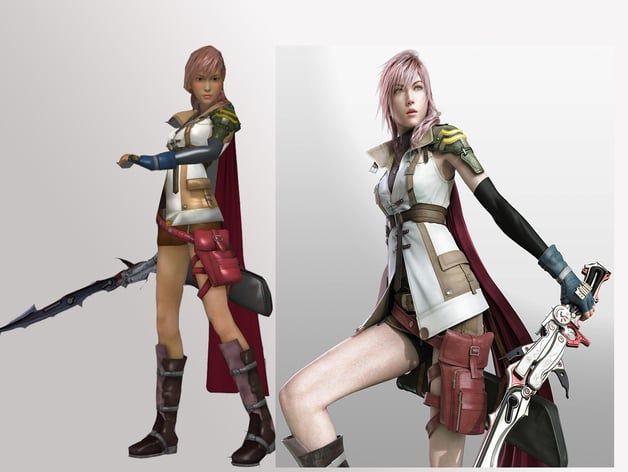 Bio: This solitary young woman speaks little of herself. Even her true name is a mystery. She is known to others simply as "Lightning".
Franchise Appearances: Despite her mysterious past, we know that Lightning was actually born as Claire Farron and is the main protagonist of Final Fantasy XIII. She is also  the central character in "The Lightning Saga", acts as narrator and temporary playable character in Final Fantasy XIII-2 and returns as the only directly playable character in "Lightning Returns: Final Fantasy XIII". She also makes numerous appearances in other media related to the franchise.
3D Model: This is another one from Thingiverse but this time from a designer known as Solid. The model is great but a little low poly. That doesn't detract from the design though and any issues can be smoothed out in post processing to create another great display piece.
3. Leviathan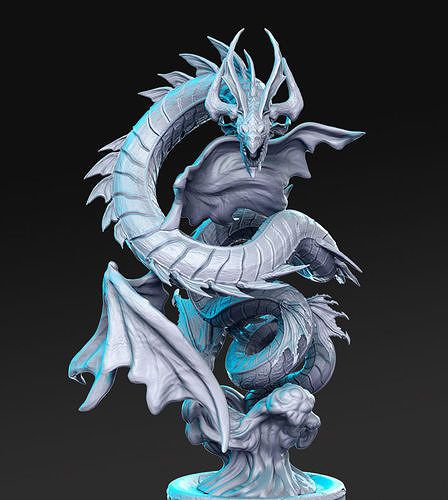 Bio: The Leviathan is a monster that guards the seaways approach to the Mysidian Tower. The creature has its origins in Hebrew and some ancient Jewish religious texts. The term Leviathan now refers to any large sea monster of unknown origin.
Franchise Appearances: The Leviathan makes it's on e and only appearance of note way back in Final Fantasy II when the characters are swallowed by it and have to navigate it's digestive system of all things to progress.
3D Model: This design by Custom Miniatures is available from CG Traders but you will have to pay $14 for the privilege of downloading it. As you can see from the image, the model has the potential to be a great centrepiece of a Final Fantasy display so the financial outlay might be worth it.
4. Zack Fair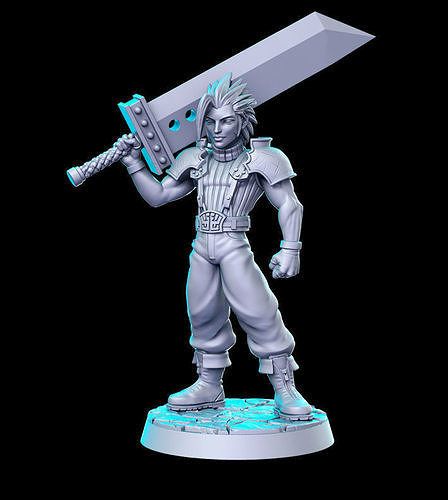 Bio: Zack was a member of SOLDIER division but originally came from the countryside village of Gongaga. He was determined to become a hero and under the mentorship of Angeal Hewley, Zack made SOLDIER First Class. He eventually inherited his Buster Sword, becoming one the company's most dependable elites
Franchise Appearances: Zack Fair is a recurring character in the "Final Fantasy VII" series and also the main protagonist of "Crisis Core -Final Fantasy VII. Other appearances have him as a supporting character, including "Last Order - Final Fantasy VII",  "Before Crisis - Final Fantasy VII", "Final Fantasy VII: Advent Children and the Final Fantasy VII Remake.
3D Model: Another great design by Custom Miniatures and again available on CG Trader but for the bargain price of $7 this time. The design is again exquisite and full consideration has been given to both the character of Zack Fair and the Buster Sword's true size.
5. Buster Sword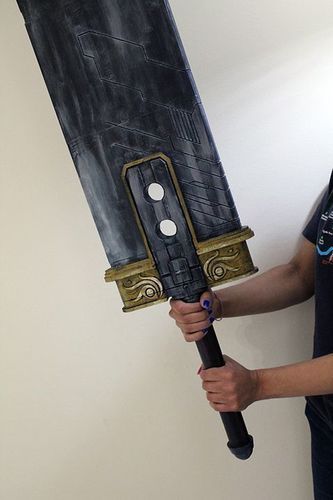 Bio: I guess you can't really have a bio for an inanimate object but best and briefest description of the Buster Sword is that it's  large broadsword that has inherited the hopes of those who fight. The sword belonged at one time to both Zack Fair and Cloud who had a complicated relationship with both the sword and each other.
Franchise Appearances: The Buster Sword appeared on the scene at the same time as Zack Fair so was present in Final Fantasy VII and subsequent sequels and remakes.
3D Model: This is areal beast of a model and design in full scale for either display or Cosplay. The designer is known as Sleepingsamu and the 3D printable files are available to download for the princely sum of $13 from Pinshape. Obviously this is a big print so the model is separated into 15 different files but if you're a fan then it's surely worth the effort to print and assemble this incredible looking model.
6. Behemoth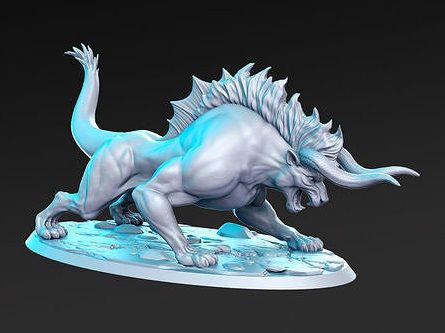 Bio: Ferocious beasts with regal, fluttering manes and roars violent enough to shake the earth itself. After rending foes with long claws and horns, they usually use their sharp teeth to deal the killing blow. Also known to use high-level magic, Behemoths are enemies of the top rank.
Franchise Appearances: The Behemoth is a recurring type of enemy throughout the Final Fantasy franchise. It's first appearance though was in Final Fantasy II although consideration was given for the beast to be included in the first game. This can be evidenced by some artwork that exists for the original game.
3D Model: I've visited the designs of Custom Miniatures once again but for the final time in this list. Do have a look at the many Final Fantasy design they have created though and you won't be disappointed. The downloadable and 3D printable file is available on CG Trader for $7.
7. Bahamut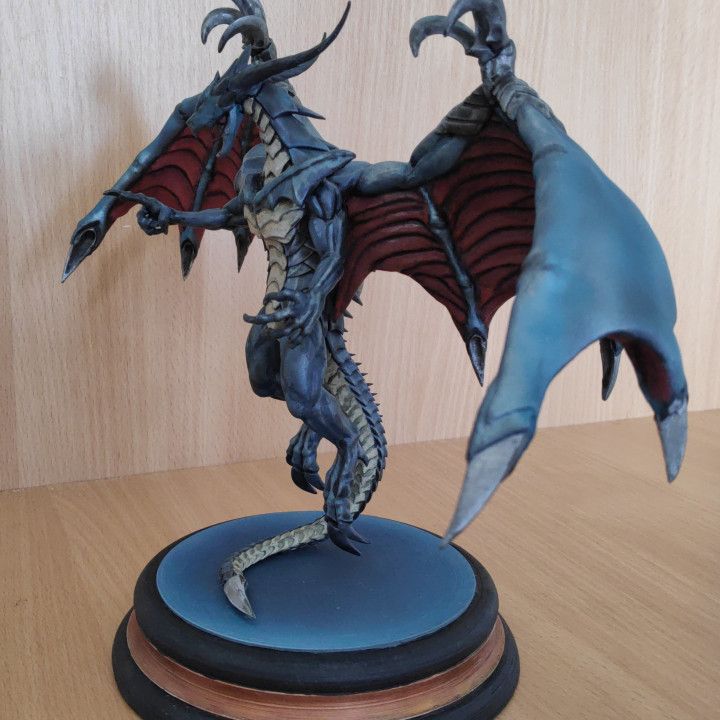 Bio: Held in duress for aeons within the lesser moon, Dalamud, the elder primal Bahamut broke free of his captivity when the celestial body was wrested from the heavens to descend upon the Battle of Carteneau. Once freed, the terrible being wrought fiery destruction across the length and breadth of Eorzea, his devastating rampage marking the beginning of the Seventh Umbral Era. In the midst of the chaos, however, Bahamut was enveloped in a blinding white light and abruptly disappeared from the skies. None claim to have seen the primal in the five years since.
Franchise Appearances: Also known as Dreadwyrm, Bahamut first appears in "Final Fantasy XIV" but his story is further explored in "Final Fantasy XIV: A Realm Reborn" and then finally in "Final Fantasy XIV: Heavensword" where his origins are also exposed.
3D Model: This fantastic looking piece has been designed by Kuro Son and is available to download from My Mini Factory. The best thing about this though is that the model file is entirely free so hats off to Kuro Son for that. The model itself might take some experience to 3D print perfectly but the end result once painted will be spectacular.
8. Dragoon Helmet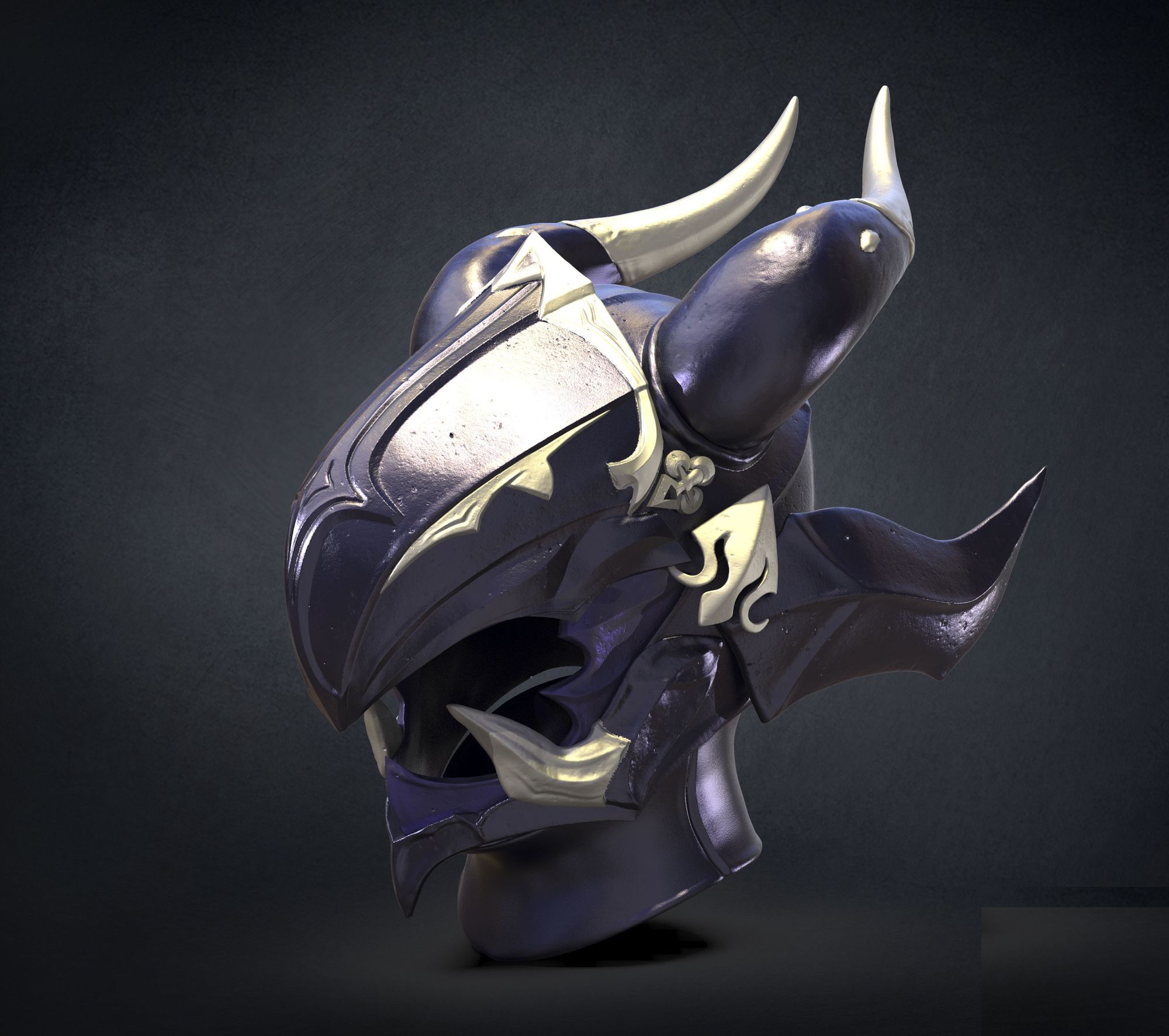 Bio: Another inanimate object without a backstory of it's own but at least this is related directly to a character. The Final Fantasy Dragoon is a broad term for a fighter also known as a Dragon Knight or Lancer. Dragoons have become some of the most iconic characters in the Final Fantasy series serving the role of spear-wielding physical combaters.
Franchise Appearances: Dragoons have appeared in every Final Fantasy incarnation since Final Fantasy II. Notable Dragoons include Ricard Highwind, Kain Highwind, Freya Crescent, Estinien Varlineau, Aranea Highwind, and Dion Lesage.
3D Model: This model is another great Cosplay piece and is designed to be printed in parts so that it can be assembled. The advantage of this is that the helmet can be resized and adapted to fit the individual head of the user. The fantastic design is the creation of Heroes Cache and can be found on CG Trader to download for $15.
9. Dragoon Armour – Full Set Plus Gae Bolg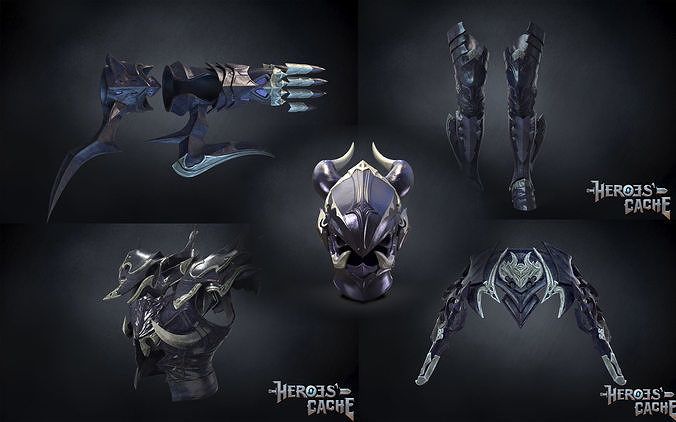 I'll leave the "Bio" and "Franchise Appearances" out for this one as the Dragoon Armour obviously relates to the same characters as the helmet. The addition of Gae Bolg though throws a different light on matters as this is a weapon that has high ranking and can only be acquired late in the game in Final Fantasy XIV.
3D Model: I couldn't show you the Cosplay Dragoon Helmet without also sharing the full set of armour by the same designer. This is an incredible piece if design work and all the parts are individually printable to again allow for customisation and resizing. The aforementioned helmet is also included in the files but I added that separately as you may just want to stick with that. The design is of course by Heroes Cache but is on the expensive side of things at $90. However, if you sign up to CG Trader, you should be able to get it for the offer price of $45.
10. Dragoon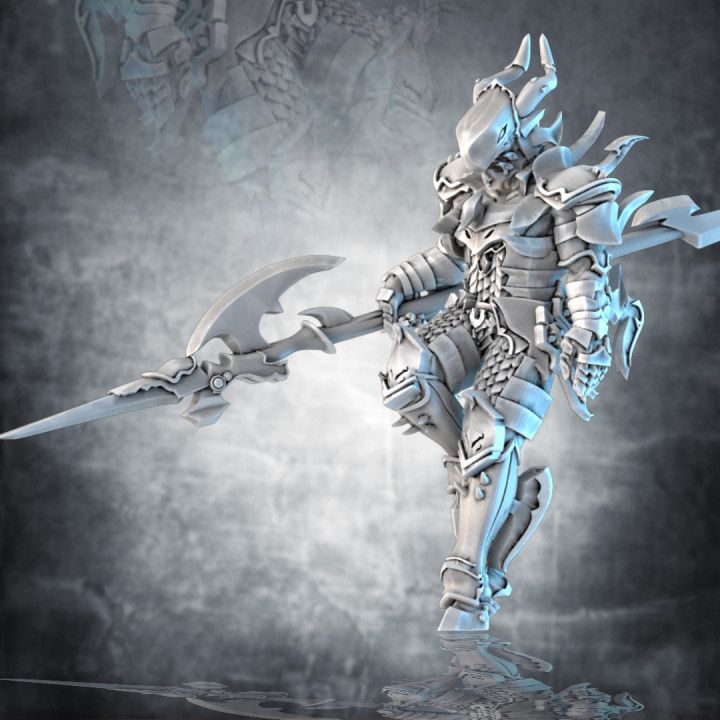 Apologies for repeating myself here but it wouldn't be a full list without an actual scale model of a Dragoon. I've shown the "Bio" and "Franchise Appearances" again for ease of reference.
Bio: The Final Fantasy Dragoon is a broad term for a fighter also known as a Dragon Knight or Lancer. Dragoons have become some of the most iconic characters in the Final Fantasy series serving the role of spear-wielding physical combaters.
Franchise Appearances: Dragoons have appeared in every Final Fantasy incarnation since Final Fantasy II. Notable Dragoons include Ricard Highwind, Kain Highwind, Freya Crescent, Estinien Varlineau, Aranea Highwind, and Dion Lesage.
3D Model: This is a superb design by Ghamak and can be found for download on My Mini Factory. The design itself is a great depiction of a Dragoon which can either be used as a miniature for gameplay or scaled up to make a striking display piece. You will though need to pay $4.90 to download the printable file.
11. Highwind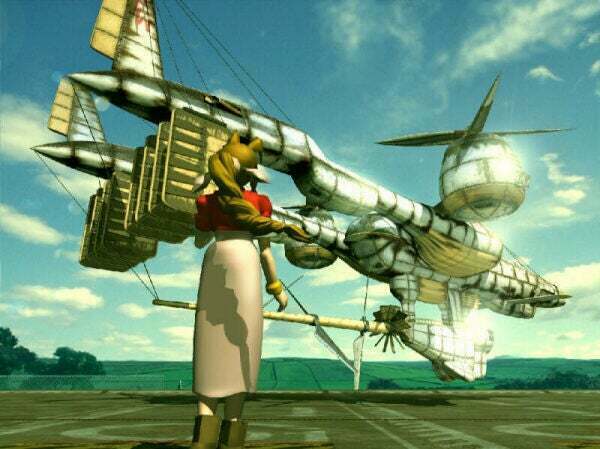 As I mentioned the Highwind family as being high profile members of the Dragoon ranks, it seems fitting to include this amazing aircraft which is a major part of the Final Fantasy realm.
Bio: The Highwind is an airship owned by Cid Highwind and manufactured by the Shinra Electric Power Company. The airship was used by Rufus Shinra before being stolen by Cid for Tifa Lockhart and the group. It would eventually be used as Cloud Strife's primary means of transportation around the planet in the battle against Sephiroth.
Franchise Appearances: The Highwind makes its one and only appearance in Final Fantasy VII and as I mentioned,  acts as Cloud Strife's primary means of transportation. In gameplay, the ship acts as a kind of hub for gathering information, serves as a "save point" and a free "heal" for the player.
3D Model: The model has been adapted from an original design on Thingiverse but made better by Zombiere and now available to download for free on Cults 3D. The model itself is combined of several separate printable parts so you'll need to assemble it once printed. I've shown the image from the franchise for this model as there isn't one available of the completed print but if you have a look via the link, you'll see the true detail and scale of the model.
12. Airstep Sword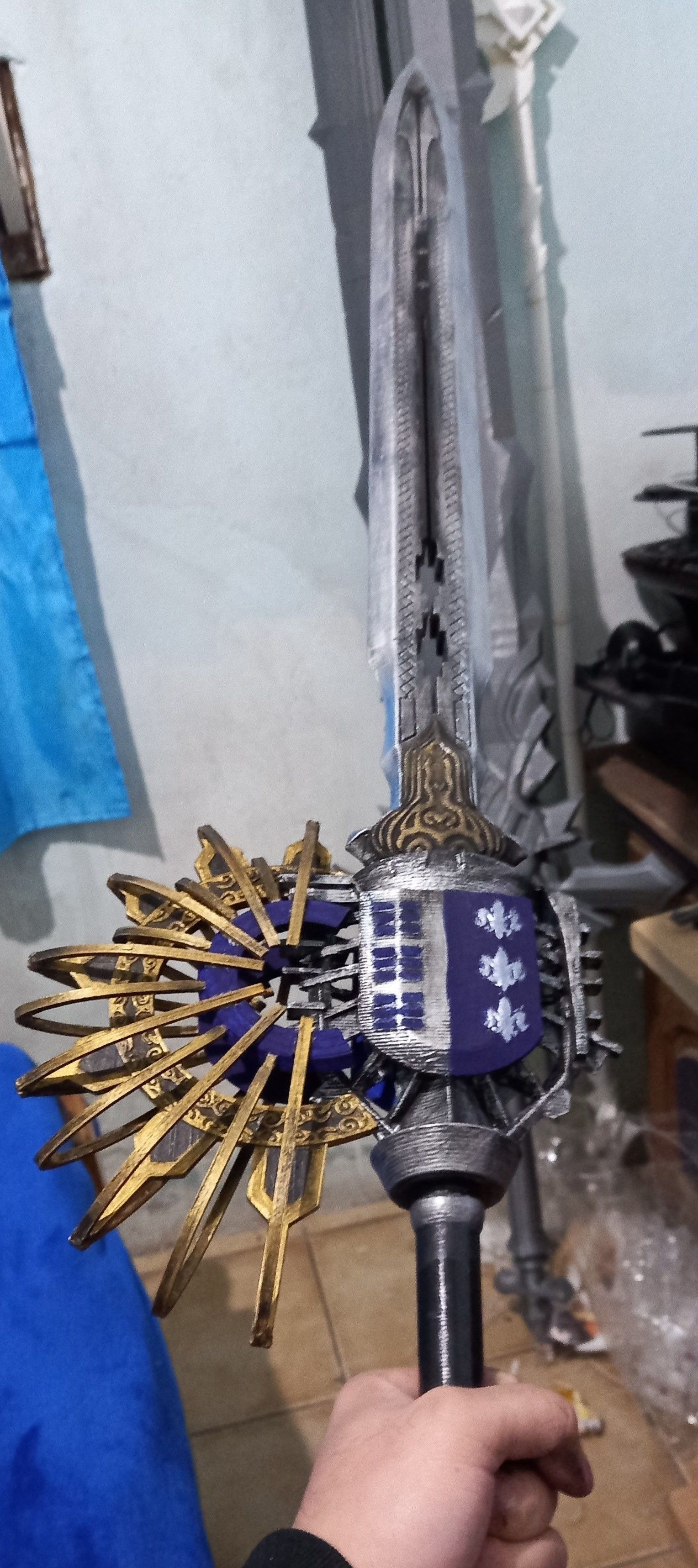 Bio: Again, an inanimate object but weapons are a major part of the gameplay and progression through the worlds of Final Fantasy. The Airstep sword was premiered in Final Fantasy XV and is described as "Light and lively, this one-handed sword reduces the MP of Noctis's aerial manoeuvres".
Franchise Appearances: Available as a weapon upgrade in Final Fantasy XV.
3D Model: This model is a great piece of design work by eezee2019 and can be downloaded from CG Trader for $5. There are 30 separate pieces to this sword but full assembly and painting processes can be seen in the images associated with the model download page. This would make an awesome piece of Cosplay equipment or indeed a display piece.
13. Ifrit the Fire Demon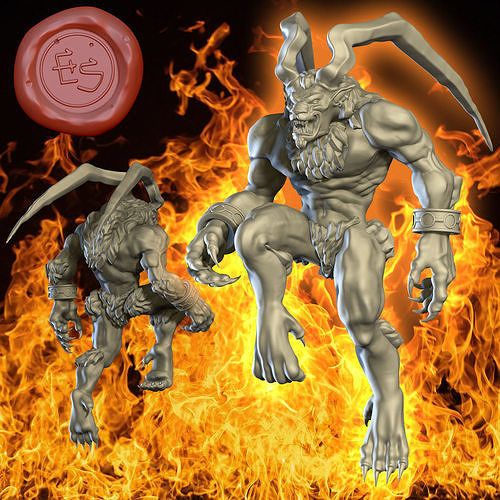 Bio: Ifrit, also known as the Infernian, is an "Astral" in Final Fantasy XV. He is one of the Six and the god of fire. He plays an important role in Eos's history but  was initially a minor character and shrouded in mystery.
Associated with the character of Ifrit is The Fire Elemental, also known as The Fire or Pyros and is an enemy in the original Final Fantasy. They are enemies in the Mount Gulg, being stronger than Pyrolisks and Horned Devils. However, they can still be defeated easily by some physical attacks and some ice spells.
Franchise Appearances: Ifrit appears in Final Fantasy XV and is the God of Fire and level boss in Eos. The other elementals I mentioned literally appear just in the original Final Fantasy. These "Elemental" characters are fixed in the game to guard certain places and artefacts. There are Elementals representing Earth, Air, Water, Fire, Dark and Death.
3D Model: The design by Ethan T Savage is exceptional and shows a real talent. Although this is a fairly minor character in the overall saga of Final Fantasy, it is one that lends itself well to being 3D printed and displayed. The design and printable file can be seen and downloaded from CG Trader for $7.
14. Final Fantasy VII Logo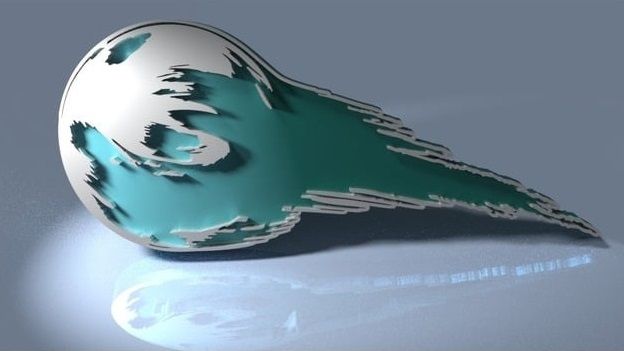 This one is a bit different so I'll dispense with the background details etc. as they don't really apply in this case. So, let's go straight to the 3D model itself and the design by Souly. This was originally created and uploaded to Thingiverse in 2017 so it shows the longevity of Fandom for the franchise as the original Final Fantasy VII came out 20 years earlier in 1997!
This design is great though and would complement any display of figures or other Final Fantasy 3D prints you may want to make.
15. Red XIII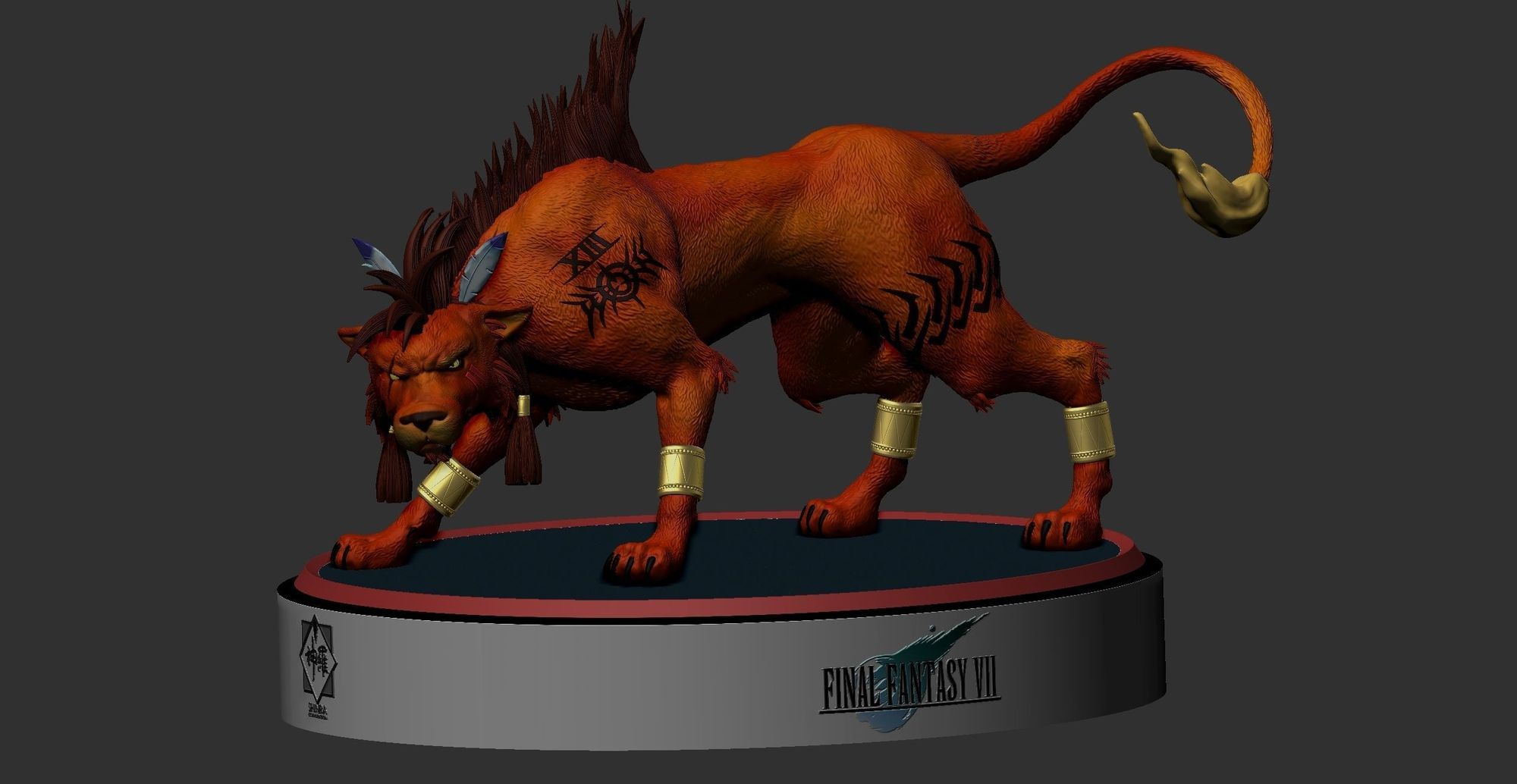 Bio: Red XIII, real name Nanaki, is a red lion or wolf-like beast. The name Red XIII was given to him by Professor Hojo who captured and experimented on him as a specimen. Although he is 48 years old, he is developmentally equivalent to a 15 or 16 year old human by his long-lived species' standards. He fights alongside Cloud Strife and his allies to fulfil his duty to the planet and to defend it as a warrior.
Franchise Appearances: Final Fantasy VII as well as the sequels and remakes.
3D Model: This is a great looking design of the character  by Fernando Cesuc which can be downloaded for $20 from CG Trader. The design has really captured the inner character of Red and has fully encapsulated the sinister and aggressive look in his stance and facial expression. The only thing I will say is that the model is titled "Red XII" and not XIII on the download site but we'll let Fernando off as the design is so good.
16. Clive Rosfield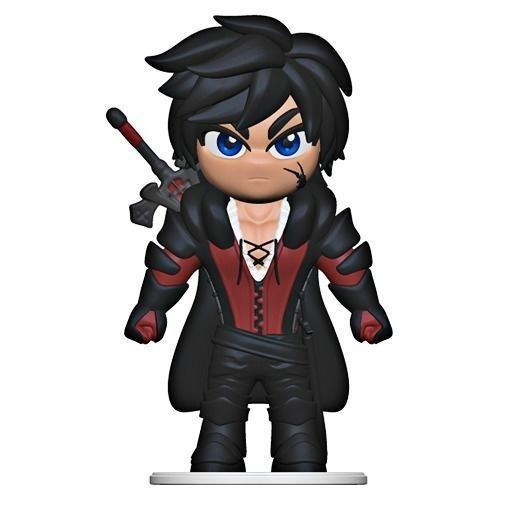 Bio: The firstborn son of the Archduke of Rosaria. Though all expected him to inherit the Phoenix's flames and awaken as its Dominant, destiny instead chose his younger brother Joshua to bear this burden. In search of a role of his own, Clive dedicated himself to mastering the blade. His practice pays off when, at just fifteen years of age, he wins the ducal tournament and is dubbed the First Shield of Rosaria, tasked to guard the Phoenix and blessed with the ability to wield a part of his fire. Alas, Clive's promising career is to end in tragedy at the hands of Ifrit, setting him on a dangerous road to revenge.
Franchise Appearances:Clive Rosfield is the main protagonist of Final Fantasy XVI.
3D Model: A bit of a different route to finding this one as it's available only through the Creality Cloud app and website. This means you have to be a member to download models but it's free to join and there are lot's of free models to download. This one though will cost you 100 credits on Creality Cloud (About $1) and is by designer Matteo Moscatelli. It's a fairly complex design for such a small model but it can be scaled up or down easily and is a good caricature of the Clive Rosfield character.
17. Final Fantasy X Diorama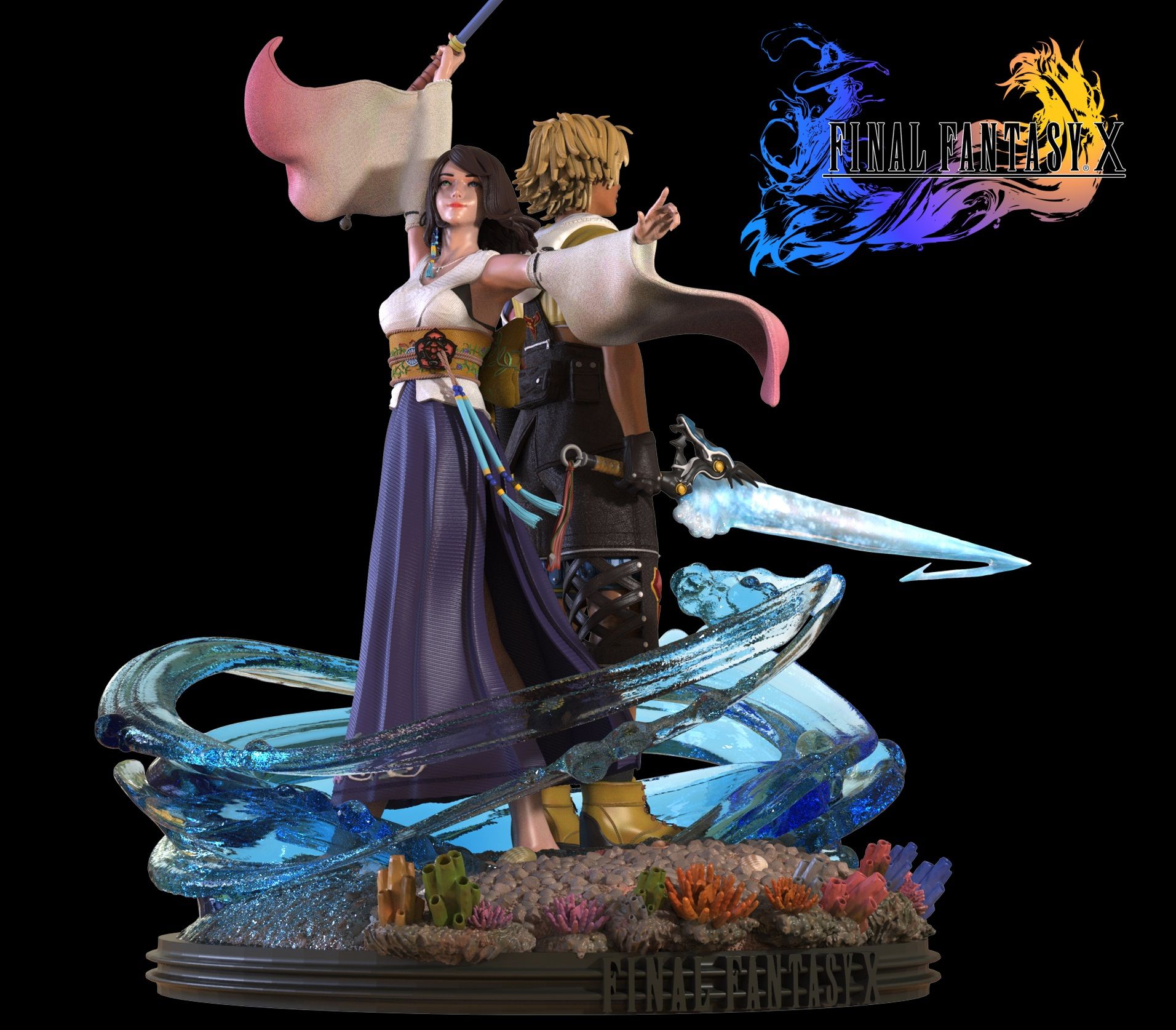 Bio: The two characters depicted in this diorama are Tidus and Yuna. Tidus is a 17-year-old from the city of Zanarkand who is transported to the world of Spira following an attack by the creature Sin. Shortly after his arrival he meets and joins Yuna, a mage and summoner who, with her guardians and companions, is on a pilgrimage to kill Sin.
Franchise Appearances:Both Yuna and Tidus are the main protagonists in Final Fantasy X. They also appear in sequels and remakes of the game as well as in other Final Fantasy related media.
3D Model: This is just stunning. The detail and impact of this diorama can't be underestimated and any fan of Final Fantasy X would be proud to have this on display. The design is by Leonardo Murilo and is on the slightly pricier side at just over $56 but it may be worth the outlay for such a great Final Fantasy 3D print. The files for this model can all be bought and downloaded from Cults 3D.
18. Garuda (Wind Goddess)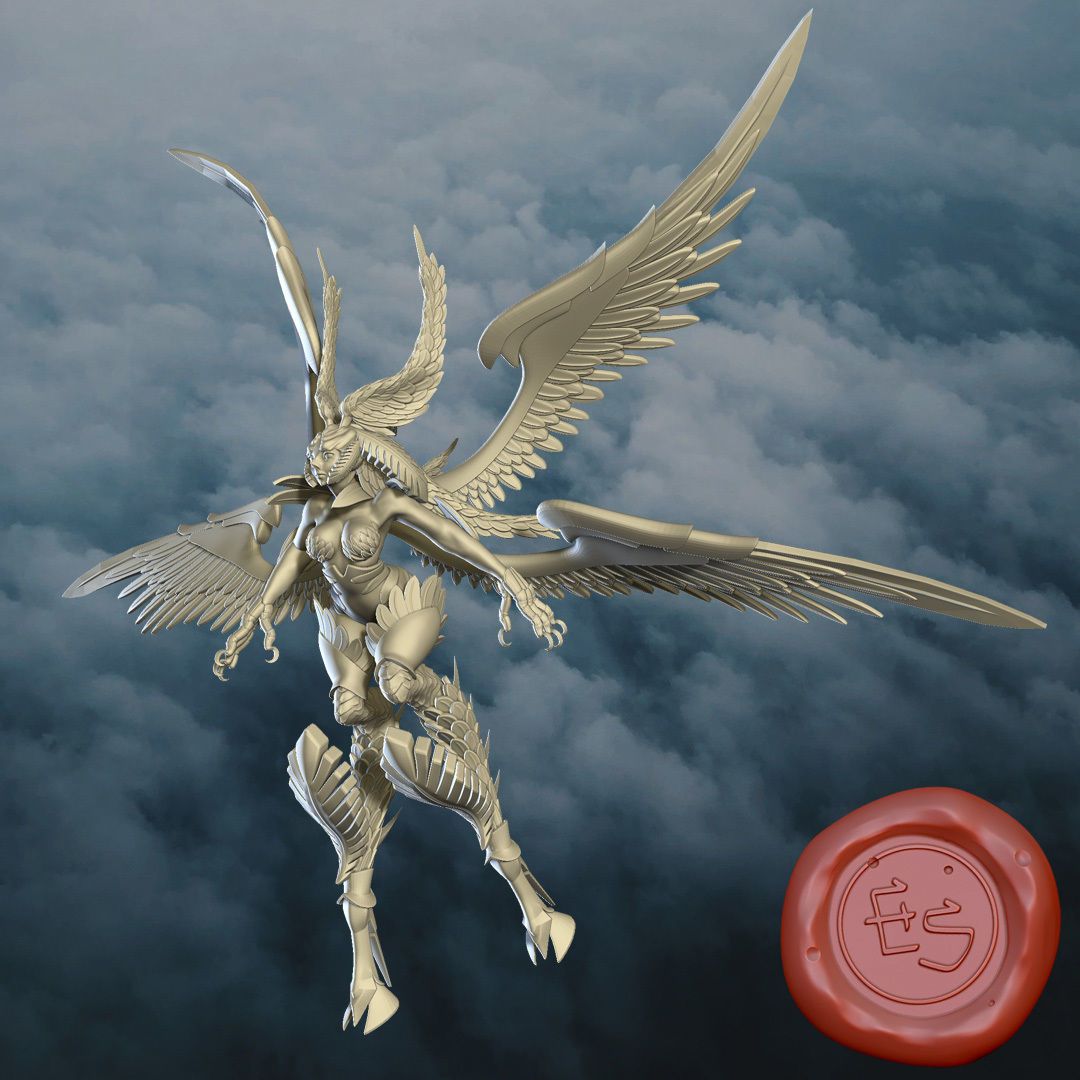 Bio: The queen of storms, Garuda is the chosen primal of the Ixal. Though elegant of form and graceful in motion, the capricious and ruthless nature of this bloodthirsty being engenders mindless terror even amongst her devoted worshippers. Her wrath often erupts without warning and descends upon her victims with unbridled fury.
Franchise Appearances: Garuda makes her main appearance in Final Fantasy XIV where she is also known as "Lady of the Vortex" or "Empress of Birds". She is a boss character a number of times also in both version 1.0 of XIV and "A Realm Reborn".
3D Model: This is another great design from Ethan T Savage and can be downloaded for $10 from CG Trader. The print is designed as a miniature for tabletop display but could be scaled up from the original 32mm if you wanted. This would then make it far more of a display piece and worth the outlay for the file.
19. Final Fantasy VII – All Characters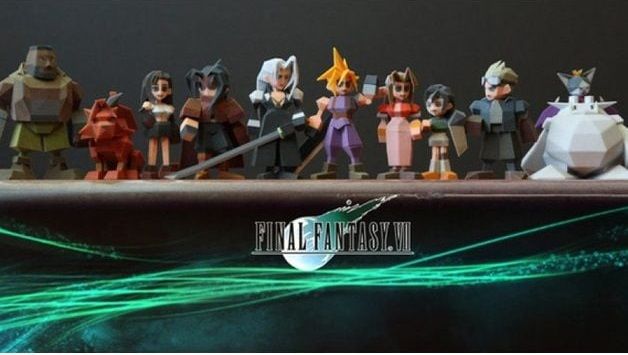 Bio: What can I say but these are literally a large group collection of a majority of the main Final Fantasy characters. Have a look at the models included to see which ones are there.
Franchise Appearances:Final Fantasy VII
3D Model:I added this one at the end as a bit of fun really. The designs are really good but the models are what's known as "low poly" which means they don't have much detail and are more caricatures of the actual characters. The design by FFVII though is good and all the files can be downloaded for free from Thingiverse.
20. Final Fantasy III Model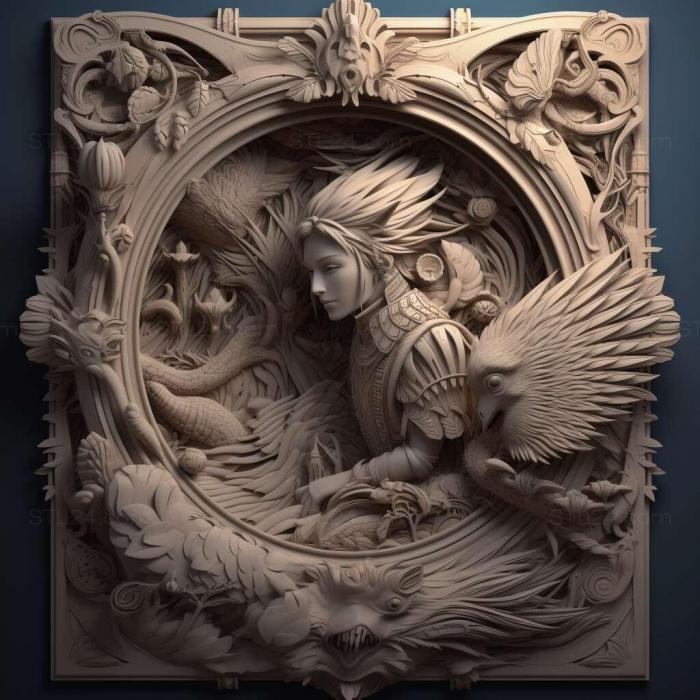 I couldn't leave a list of the best Final Fantasy 3D prints without including something from part III and this is certainly worth the inclusion.
No "Bio" or "Franchise Appearances" blurb for this one as I'll simply say "Wow" and leave it there for the description. I've saved the best until last with this one but as you'll see, quality comes at a price.
This 3D model is simply stunning and some of the best design work and artistry I've seen in a 3D design. Usually this is reserved for just being out there as a piece of 3D computer art but the great thing about this is that it's downloadable as a 3D printable STL file and can indeed be 3D printed. But, and this is a big one, the price for the file is a bit eye watering at $242 but given the work that's gone into the design, it seems a fair price.
The artist and designer in question is STL24 and the file can be bought and downloaded from their site here.
And Final(Fantas)ly…
So, there you have it. I've scoured the internet for you and have found some great and awe inspiring Final Fantasy 3D print models which I hope you like.
At this point I need to add an apology that I wasn't able to include more free files for you. I had wanted to lean more on the free files but unfortunately the quality wasn't really there. I therefore looked for models that I thought were worth printing and taking time over to create and hopefully you'll understand my reasoning. My other thoughts on the matter of paying for files is that the designers in these case have gone to great lengths to produce what are basically works of art so I think it's only fair that they should be rewarded. There are of course lots of other Final Fantasy 3D print files out there but I think I've chosen a broad and varied selection for you.
If you've enjoyed reading this and want to know more about Final Fantasy and Final Fantasy Dragoons then remember to check out Devon's articles that I mentioned way back at the start.