Anime has become synonymous with its bright, larger than life characters and its often action packed but family friendly stories and themes.
However, there's a darker side to Anime that you're probably aware of but may not be too familiar with. By darker side I don't mean anything sinister with the way that the material is produced, more that the stories and themes are aimed at the older reader or viewer.
There are many publications and anime movies and TV shows that deal with darker topics than you may expect but that doesn't make them any less popular. If you think about it, adults are the ones who usually have the money to spend on buying books, movies and associated merchandise so it makes sense to target material at that demographic.
In this article, I'll be looking specifically at how these dark themes are represented in 3D art and in particular 3D printed models and computer rendered images and designs. I'll look at some of the top titles and series in the darker side of Anime as well as some standalone designs and models which may allude to dark themes. As such, there may be some content that might not be suitable for younger readers so discretion is advised.
Let's then take a look at some of the more popular 3D printed models.
Dark Anime 3D Models and Art: Movies and TV
More often than not, dark Anime figures will be of voluptuous, scantily clad females. They will be depicted as warriors, witches or other fantasy characters and might not necessarily be related to a specific story or movie. This particular niche part of the genre is therefore very much open to the imagination and creativity of the designer.
I'll leave that part of the topic until later in the article but for now I'll look at some of the shows and movies that could be considered as Dark Anime.
Akira
The seminal 1988 classic is considered a masterpiece of Manga/Anime filmmaking and is often cited as the benchmark by which other movies in the genre are judged. The storyline of the movie is certainly adult themed and centers around a biker gang member who becomes the subject of a military project which turns him into a marauding psychopathic psychic. That's not easy to say quickly and the subject matter can be hard to deal with as well. Studio Ghibli this is not but certainly a classic of the genre and one that should be on every fan's watchlist.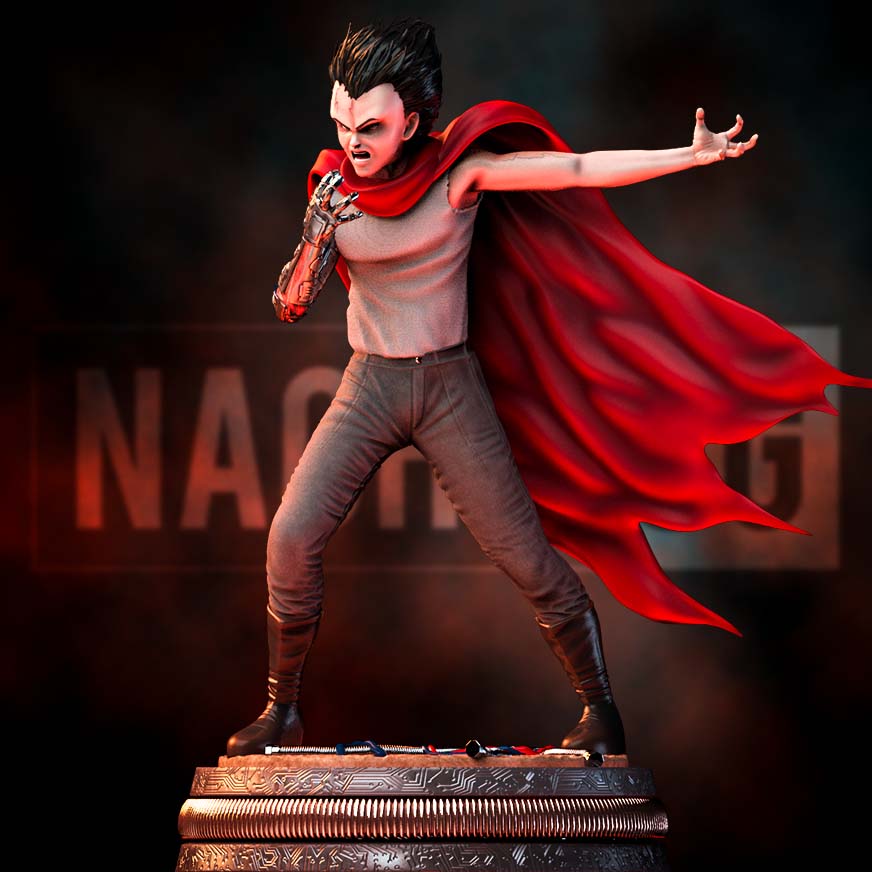 In terms of 3D design and models, as this is an older movie there a quite a few impressive creations out there. This one of the main character Tetsuo is stunning and shows what can be achieved with a 3D printer and some skillful painting.
The famous motorbike that is featured in the movie and prominently on film posters and Blu-Ray covers alike is also a popular print. This one is particularly good quality but as with most of the files and designs I'm featuring; you do need to buy the file before you can print it.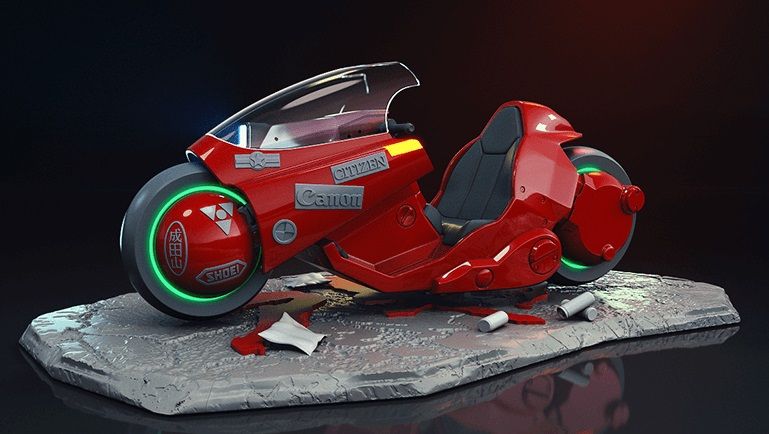 In terms of 3D art then there are some really nice designs out there which have been created on a variety of 3D design software. I particularly like this one from Daniel Blue Ice which can be downloaded from CoolVibe.com.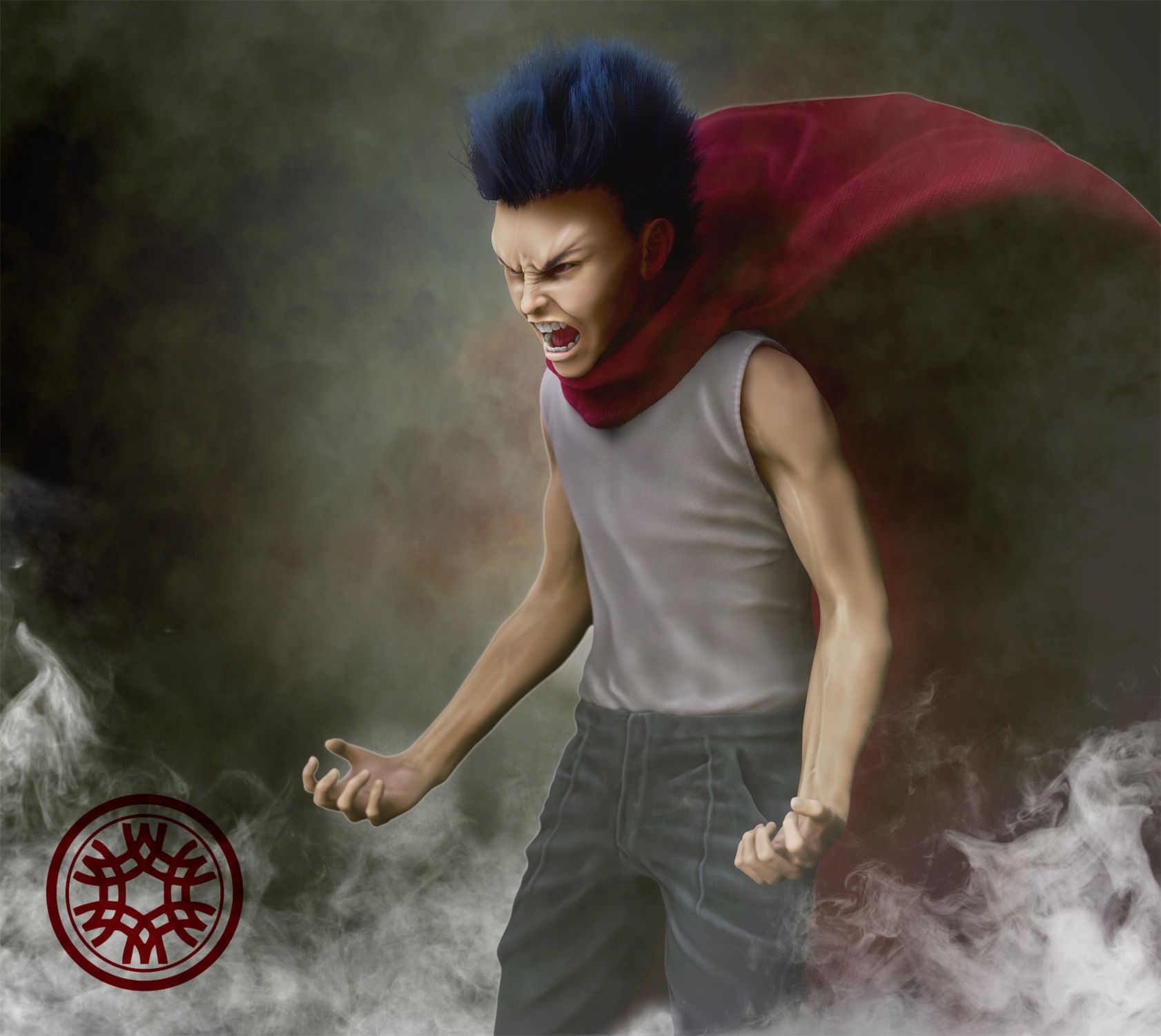 Tokyo Ghoul
I featured the main character of Tokyo Ghoul, Ken Kaneki, in my other article "Printing Anime History: 3D Models of Iconic Characters" and this again depicts a dystopian futuristic Tokyo where ghouls and humans "live" alongside each other.
Ghouls are a kind of zombie/vampire hybrid and to complicate things further Ken becomes a ghoul/human hybrid. This is of course against his will and he becomes the pawn in a game played scientists, the police and other ghouls.
There are surprisingly few 3D printed models of Ken himself and I did feature one of these in my other article so have a look at that for reference. I have since then though discovered this great model of our hero and the 3D render of the printable model also falls into the category of great 3D art.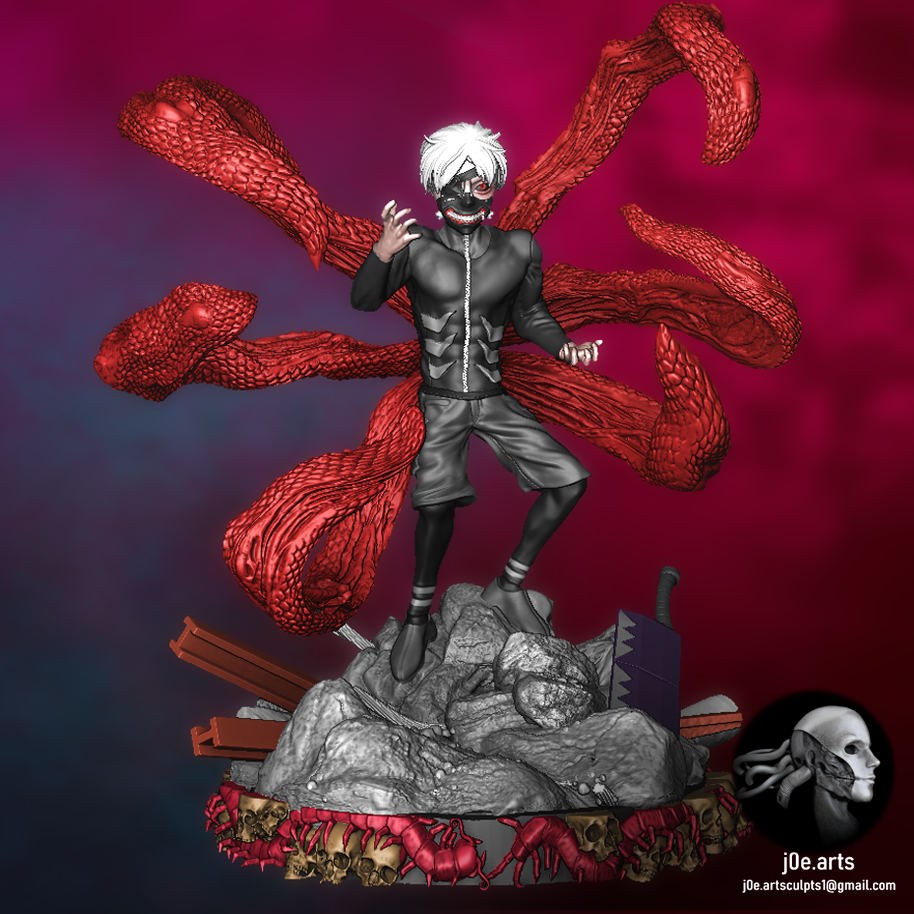 I've also looked at a model of another character from the series, Touka Kirishima, and this would look particularly good on any display shelf.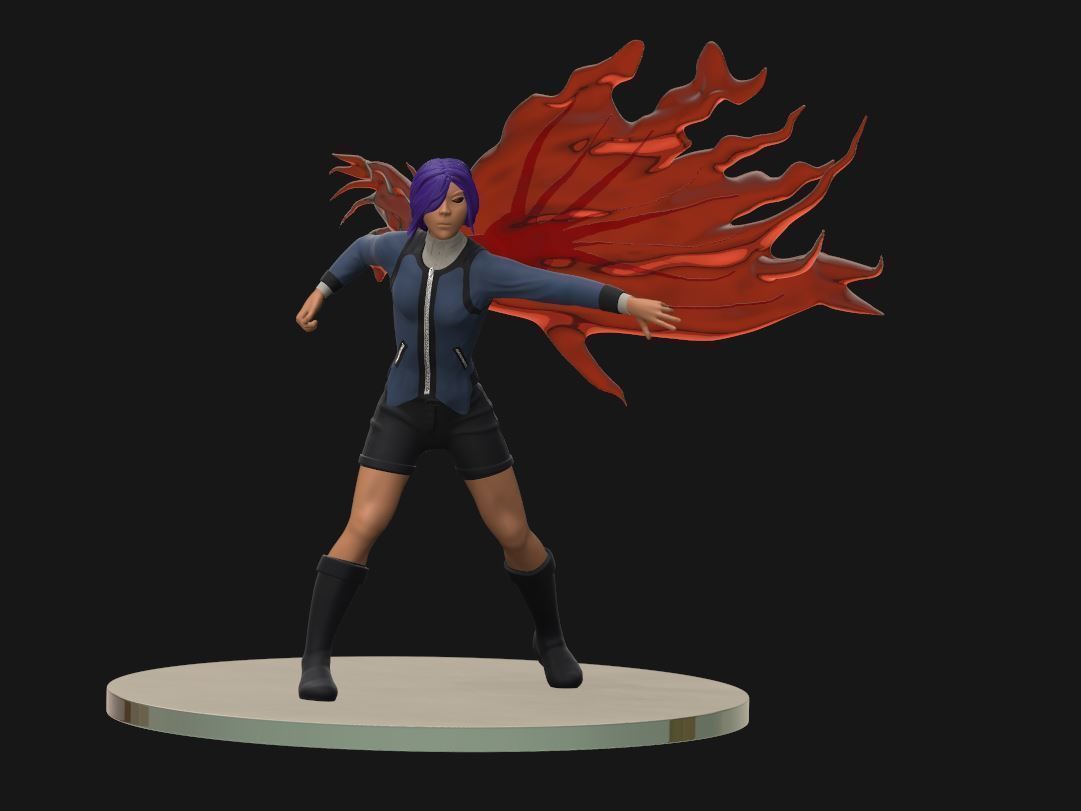 Black Butler
This series is set in a stylized Victorian London and has undertones of Charles Dickens and the Sherlock Holmes novels about it.
The story centers around young 12-year-old heir Ciel Phantomhive (great name!) whose parents and beloved dog die one night when Phantomhive Manor is attacked by an unidentified gang. Ciel is sold into slavery and ends up with a demon worshipping cult who abuse him both mentally and sexually. During one of the cult's sacrificial ceremonies, they accidentally summon a demon that Ciel had asked to help her. Ciel sells her soul to the demon who she names Sebastian after the deceased dog and the two of them return to society life. Ciel's father was the Queen's "watchdog" so Ciel takes over his role meaning that she is tasked with investigating events that the Queen deems most dangerous to English life.
Sebastian therefore becomes the eponymous Black Butler and assists Ciel both in her work as the watchdog and her journey towards avenging her parents' and dog's death. No, this isn't John Wick but there's certainly a fair amount of violence and dark themes to be going on with.
3D printable designs are scarce but there are some nice, printed art stencils of Sebastian such as this one which can be found on Thingiverse.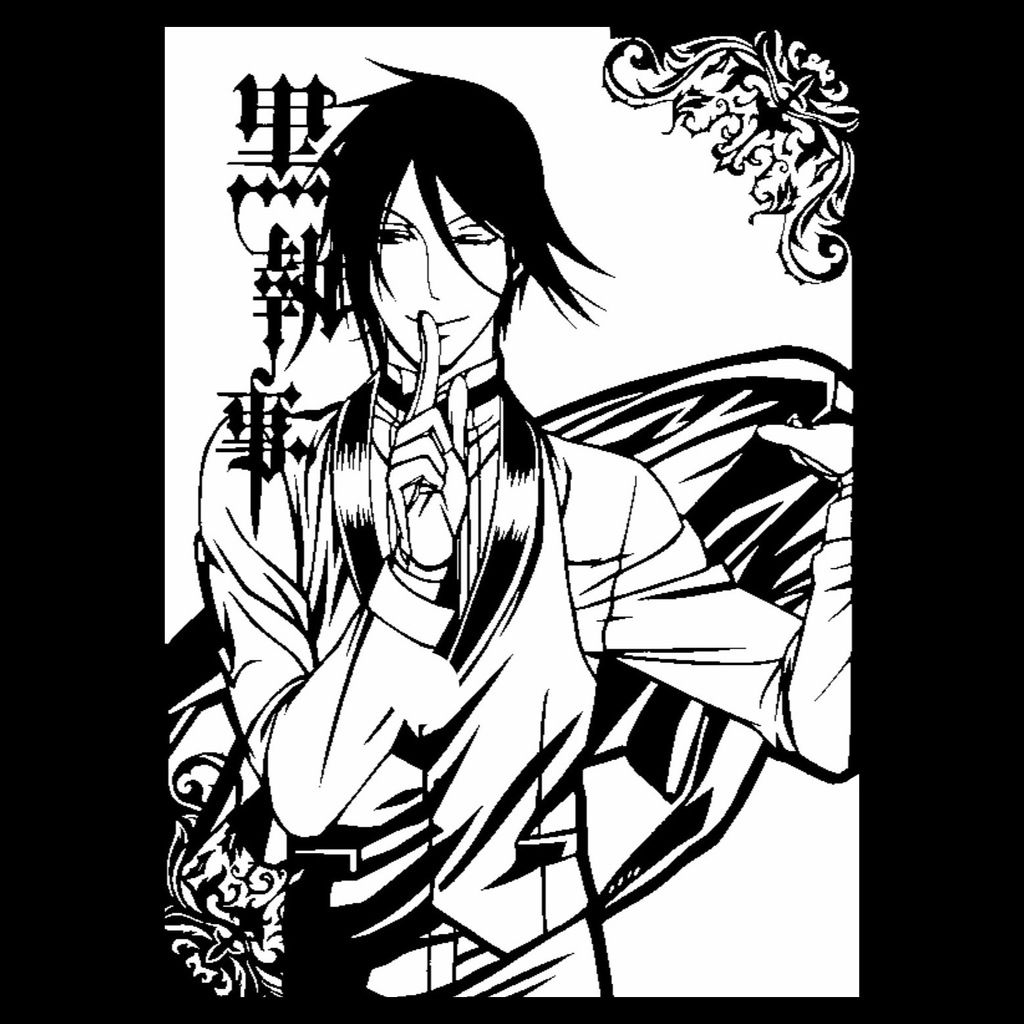 There is however this pretty cool 3D art design of Ciel which is beautifully textured and colored. The image itself does seem to give Ciel a more male Anime style persona but I suppose the character could be considered to be fairly androgenous anyway.
The images have been created using a few different design software including DAZ Studio, Clo3D and Zbrush.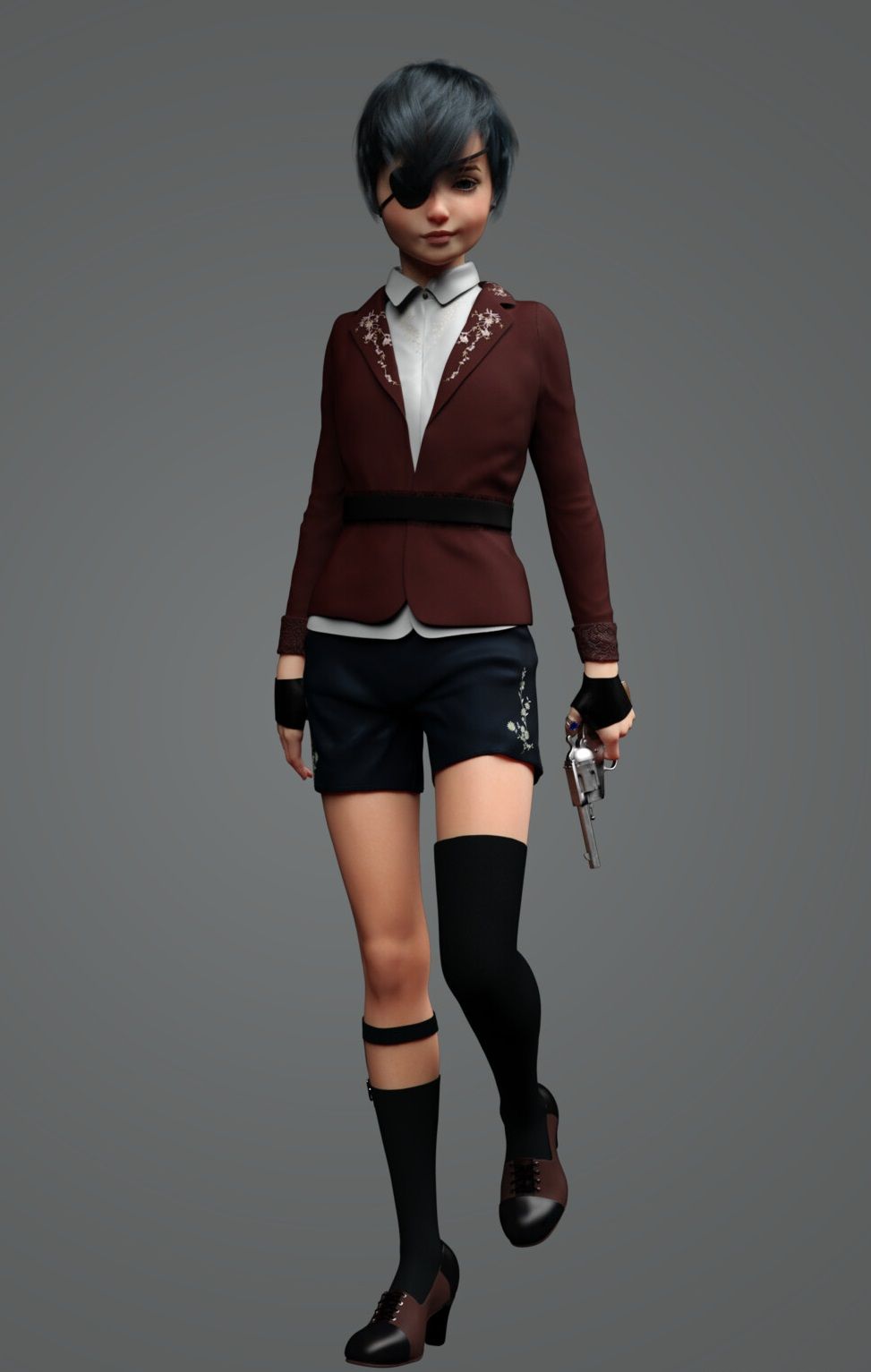 Death Note
Set in Tokyo (where else), Death Note centers on the story of a high school student named Light Yagami who one day discovers an old and mysterious black of the series title. The thing about the Death Note is that it gives the bearer the power to kill anyone as long as they know the intended victim's true name and face.
Light soon uses his powers to assassinate some high-level Japanese criminals but then moves on to global targets. A few days pass before the Death Note's original owner appears from another realm in the form of Ryuk, who is a "Shinigami" or the Japaense God of death. Ryuk is invisible to anyone except Light and an evil spirit who likes what Light is doing so joins him in his endeavors.
Our subject of 3D printable models here then is Ryuk and as you can see from the images, the print itself is stunning but could be quite tricky to pull off well without supports and the right materials. Nevertheless, the results will be impressive so would be worth buying the file and printing it yourself.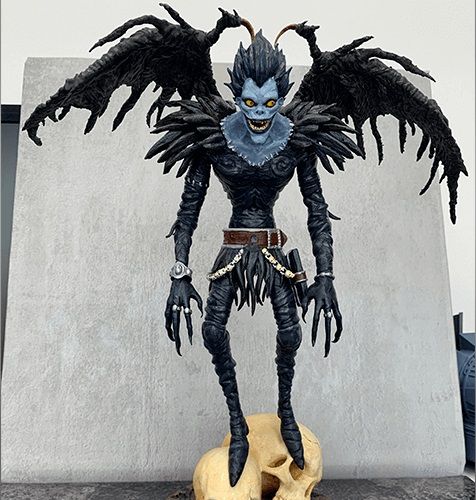 A slight departure from the norm here as I found this great sculpture on Art Station from designer Oniri Creations. Rather than 3D printing the model, this has been sculpted in sections and then pieced together. This is a true form of art and shows a human touch to the piece that might not be present in a 3D printed model.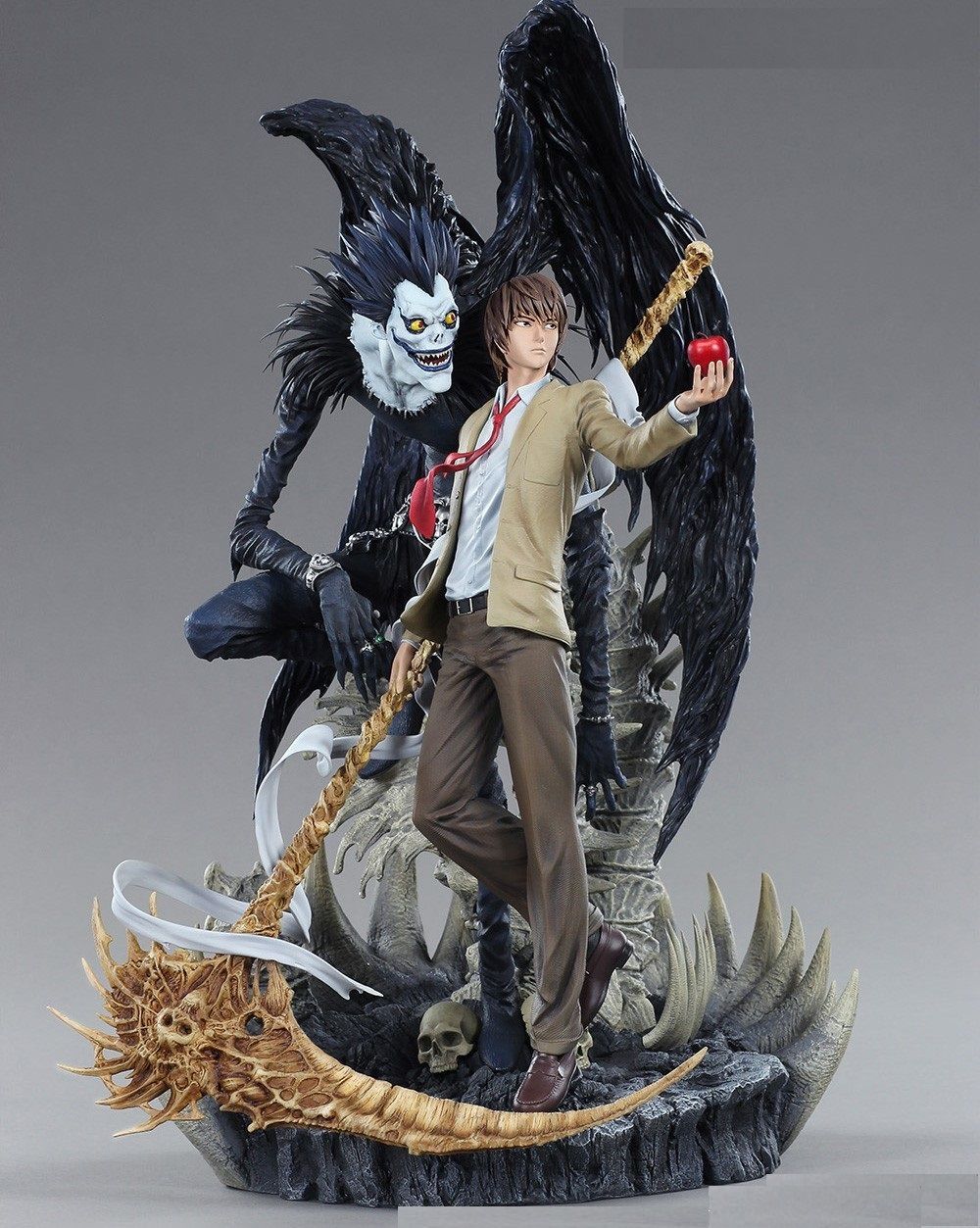 Excuse the awful pun but on a lighter note for this story, here's a great 3D render of Light Yagami which can again be found on Art Station. The image depicts Light in  a more juvenile form and similar to the Chibi type of figures that are associated with Anime. The artist has given Light a childlike but somewhat sad and soulful look which may be an indication of what really lies within him. Whatever the reason, its still a great image and shows off perfectly what can be done with 3D art and Anime.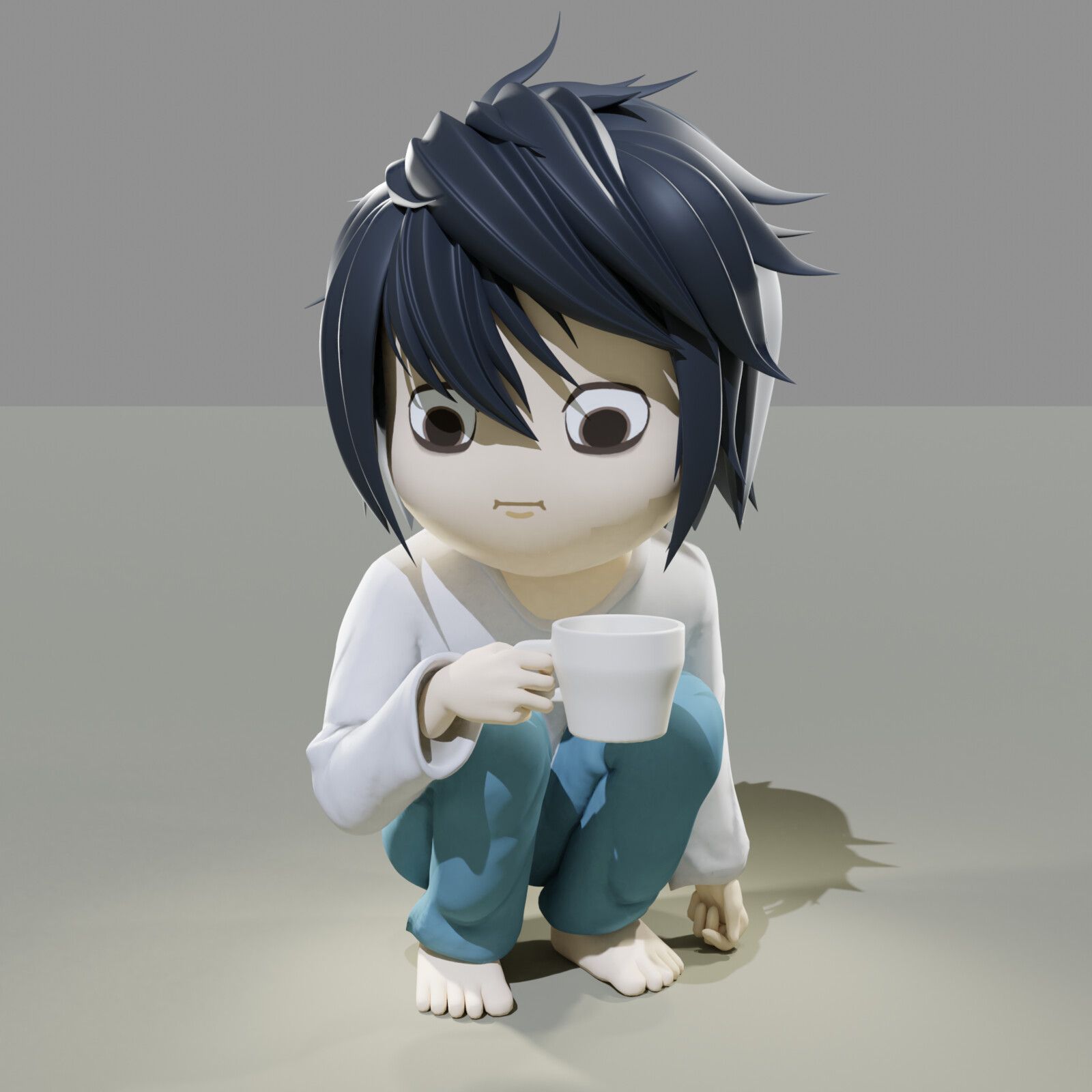 Chainsaw Man
Chainsaw Man is another strangely dark and weird tale where demonic possession and transformation come into play.
It follows the story of a down on his luck man named Denji who makes a deal with the devils that fuses his body with that of the dog-like devil, Pochita. This fusion of bodies allows Denji the ability to transform parts of his body into chainsaws. Perfectly normal behavior of course and nothing to be concerned about!
Denji however joins a government taskforce called the Public Safety Devil Hunters who act against devils whenever they pose a threat to the population of Japan.
There are a few different story arcs within the Chainsaw Man series including that of high school student Asa Mitaka, who herself enters into a similar devil's contract and vows to hunt down Denji or Chainsaw Man as he's now become.
The first model I'll show you though is neither of these characters and is in fact Power, another devil who possesses the body of an unnamed female. This model is high in detail and quality with a sense of movement in the stance and the hair that leads you to imagine the next stage of movement. Aside from being a 3D printable model, this is also a piece of well executed art and the designer should be commended for their attention to detail.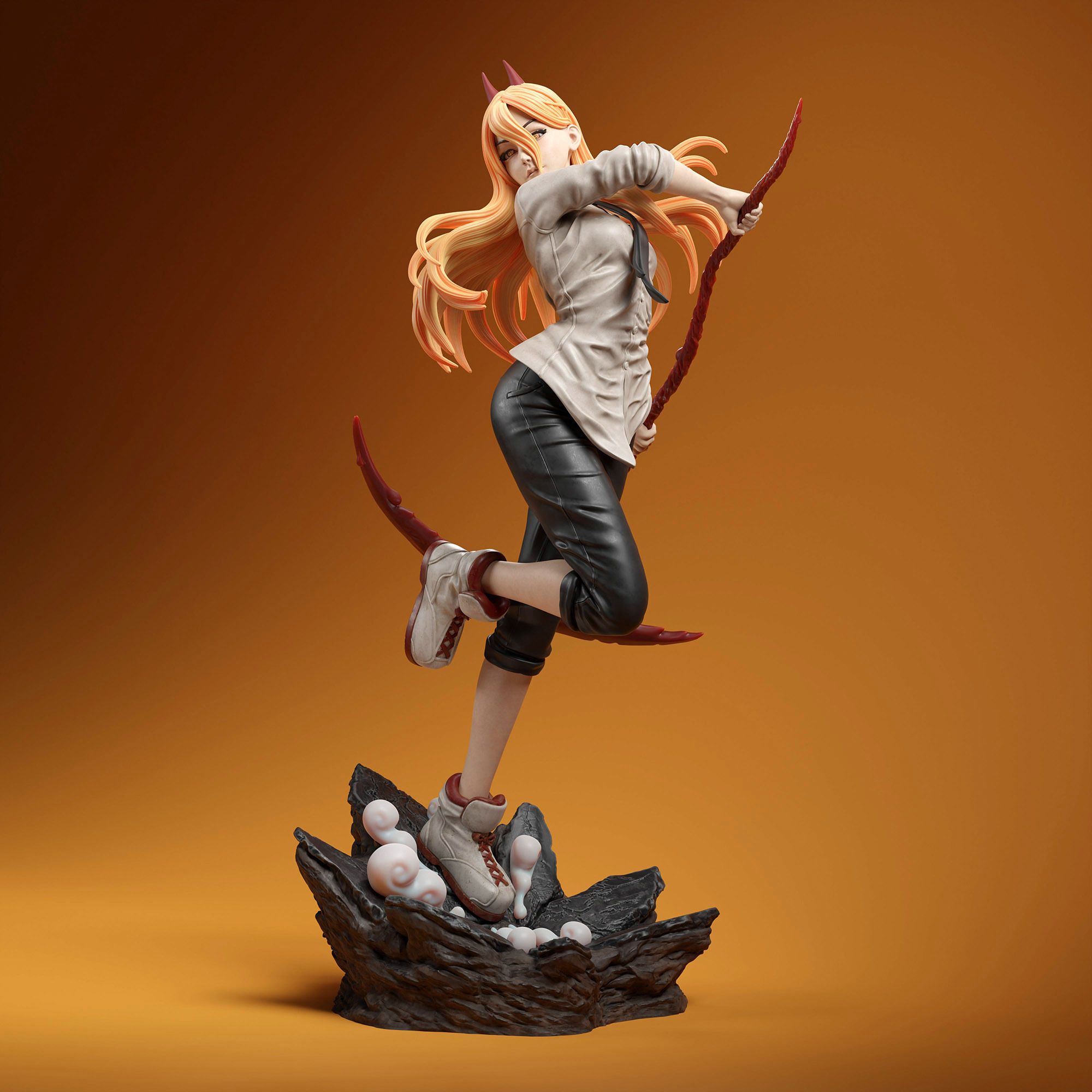 Of course, no model or art review of Chainsaw Man would be complete without the titular character himself and there are quite a few good quality 3D printable models out there from which to choose.
I have however selected this one from designer and fan JoeArt which can be found on Cults 3D and shows Chainsaw Man in a battle to the death with Katana Man. The detail and action are outstanding and would look fantastic on any display shelf. The designer has split the model into around 20 different parts to make it easier to print but has also added interchangeable heads so you can print different versions. There's also apparently an "easter egg" part in there if you can find it.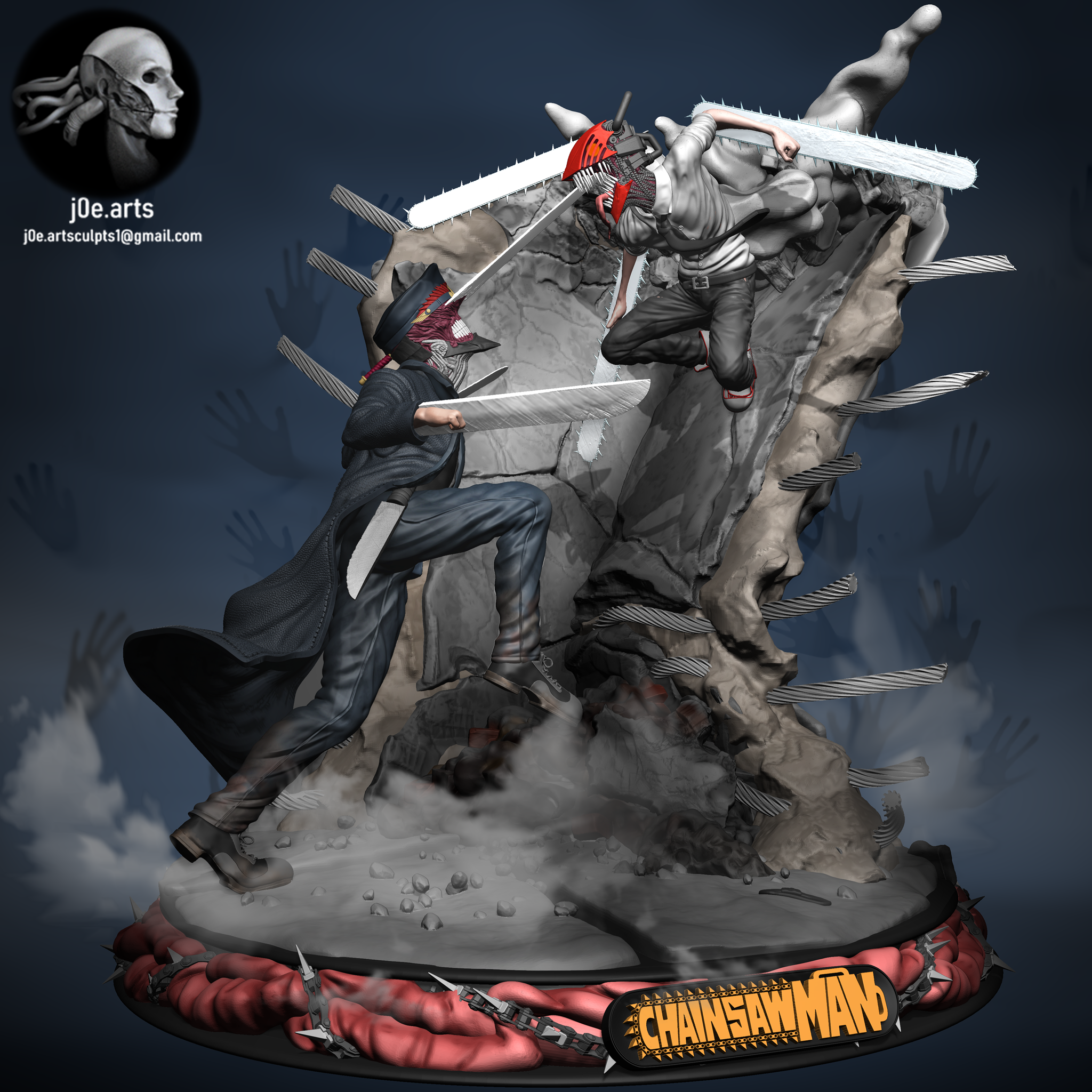 So, we've looked at few character-based 3D models and renders from well known movies and TV which fall under the umbrella od Dark Anime. Let's now revisit the point that I made earlier about some more "standalone" characters which don't necessarily have links to Dark Anime stories but have been inspired by the genre.
Dark Anime 3D Models and Art: Standalone
This type of Dark Anime art can be distinguished from the "norm" so to speak by the somewhat  outlandish character forms and over emphasised vital statistics of the figures. This is where my earlier point about voluptuous, scantily clad females comes into play but don't get too excited or indeed put off by this as I'll try to keep them on the tamer side of things.
Of course, Dark Anime figures come in all genders and can even be non gender specific in some cases. For instance, you'll see below a great 3D render of what is titled "Anime Male Demon 3D Model" but on first glance could easily be mistaken as female.
You'll find this quite a lot throughout the whole genre of Anime in general as female characters are often shown as obviously or indeed overly female and male heroes can be depicted as, and here's that word again, androgenous.
The benefit of this image file is that it can be downloaded in various file formats allowing it to be added to other 3D renders and even converted so that you can 3D print it. In fact, with many of the 3D renders or art images that you might find online, you can download them and then use them in other programs, change their appearance or ultimately 3D print them.
Finally, let's take a look at a piece of Anime art depicting a female character. This particular image is just that, an image and not 3D printable but it is typical of the style of art you'll find throughout the dark side of Anime.
The image is digitally drawn and entitled " Dark Girl with Umbrella" which basically describes what you're seeing. However, look a bit closer and you'll see an ominous male figure lurking behind the girl. This gives the image an added edge of mystery and also adds a sinister vibe to the overall effect.
Images such as this are common throughout Anime and fans of the genre will use their skills to either emulate famous characters or create their own.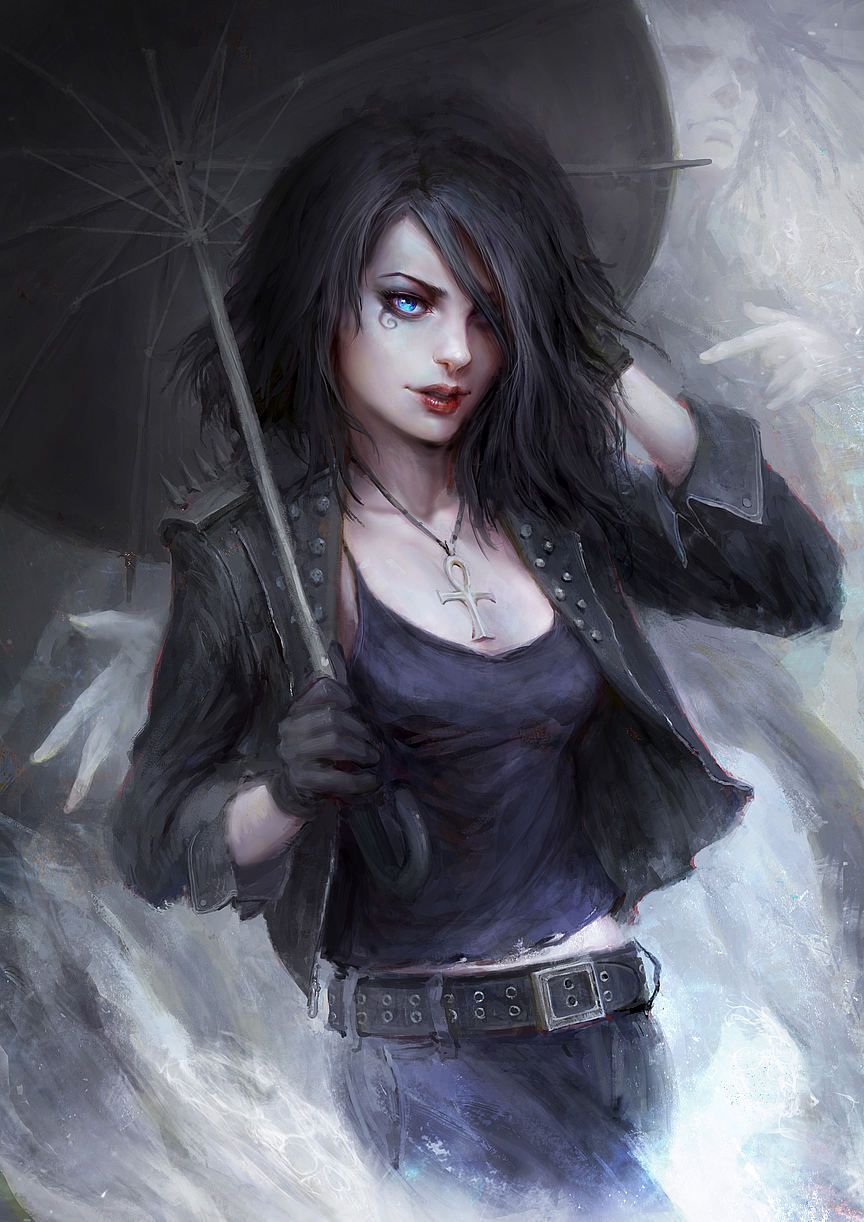 So, there you have it. Maybe not a comprehensive guide to the genre of Dark Anime as a whole, but hopefully I've given you an insight into the world and the kind of art that populates it. Have a look around and you'll easily find art, figurines and 3D printable models that will satisfy your yearning for the dark side!