The dream for a lot of 3D printing enthusiasts is to be able to sell the things they print. In this article I'm going to give you a few ideas of things to 3D print and sell, but obviously with a gaming and Anime twist.
If you've read my article, "Turning Pixels to Profit: How to Make Money with 3D Printing", you'll be aware that there are several different ways to make money from 3D printing and the associated skills. This time though I'm going to look specifically at the main aspect of 3D printing which is actually producing models but then selling them to happy buyers.
Before I get into looking at some great model ideas, we need to look at the somewhat boring but important side of things related to copyright laws.
Copyright

Obviously, if you've created and original design from scratch and it's not breaching any copyright impositions placed on it by say using a licensed character from Anime or gaming, then you can go ahead and sell it freely.
If however you've found a design online and downloaded the STL printable file, then you need to be sure that you're OK to sell the printed article once you've made it. There are therefore a few different copyright licenses that creators can add to their designs when posting them for download or sale. The licenses come under the blanket banner of Creative Commons or CC.
Let's then take a brief look at what those licenses mean. You'll see that they progressively have more stipulations added to each one to impose further restrictions
CC BY
This license allows re-users to distribute, remix, adapt, and build upon the material in any medium or format. The license allows for commercial use which means you can sell the prints you make from it as long as attribution is given to the creator.
CC BY-SA
The license has exactly the same criteria as the CC BY but with the added proviso that if you remix, adapt, or build upon the material, you must license the modified material under identical terms. This means that you can sell the printed item but you must apply the same license to the new creation.
CC BY-NC
Tis one allows for the same as the CC BY but is strictly for no-commercial use. Therefore if you see this license added to a design , you can't sell it on once printed.
CC-BY-ND
This license allows re-users to copy and distribute the material in any medium or format in unchanged form only, for non-commercial purposes only, and only so long as attribution is given to the creator. A bit different as tit's saying that you can basically share the design but can't change any aspect of it or sell it in either file or 3D printed form.
CC0 (CC Zero)
This is a public dedication tool, which allows creators to give up their copyright and put their works into the worldwide public domain. Pretty much no license at all as the creator is releasing their design to the world for free to do with as desired. This means you can 3D print and sell the model if you wish.
In addition to these Creative Commons licenses, some sights will also place additional restrictions to the distribution and sale of downloadable files in order to protect both the designers' work and their own resale interests.
Additionally to that, you should avoid creating 3D prints of copyrighted material such as logos, characters or other images without permission. Printing out copyrighted material (e.g. Pokemon figures, Nintendo logos, LEGO etc) could land you in hot water. If you're not sure whether a design is copyrighted, it's best to err on the side of caution and always ask for explicit permission.
The way to swerve this issue is to label the item "Fanart" if you're the creator so look out for things that have this tag and then check the CC license as well.
So there you have the different licenses so you should now be armed with the knowledge needed to make an informed decision about creating things to 3D print and sell.
Let's move away now from the legal side of things and look at what we came here for, the things I consider to be some of the top items to 3D print and sell in 2023.
Other Designers' Prints to Sell
As I mentioned at the start, I'm going to look at things to 3D print and sell that fall into the gaming and Anime genre. Hopefully one or two of them will things that take your eye but just remember the licensing issues and you should be fine.
TCG Dice from Genshin Impact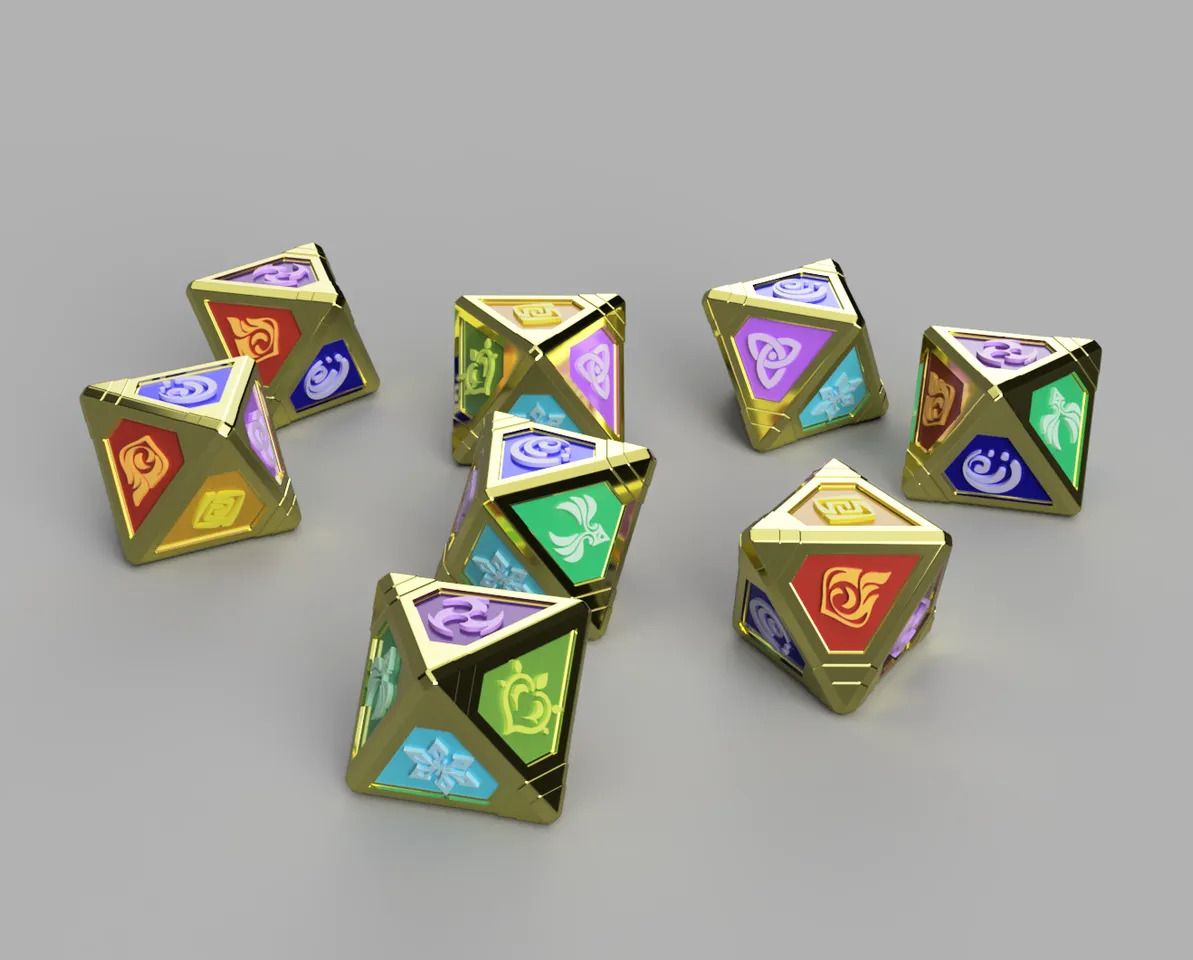 This is just one example of an idea of something you could 3D print and sell.
Gaming dice are always popular and in demand but can be expensive if bought online or from a store. Why not then print your own and sell them cheaper? This design is licensed as CC0 so no issues with printing and selling it.
You could also use the base design as a template and create your own dice for other games. Alternatively, dice aren't a difficult design to create yourself so you could take this as inspiration, run with it and print whatever shape or type of dice you want.
Who designed it? Render Beetle
Where is it? Printables
Can I print and sell it? Yes. The license is CC0 so the design is in the Public Domain
Dice Tower Tray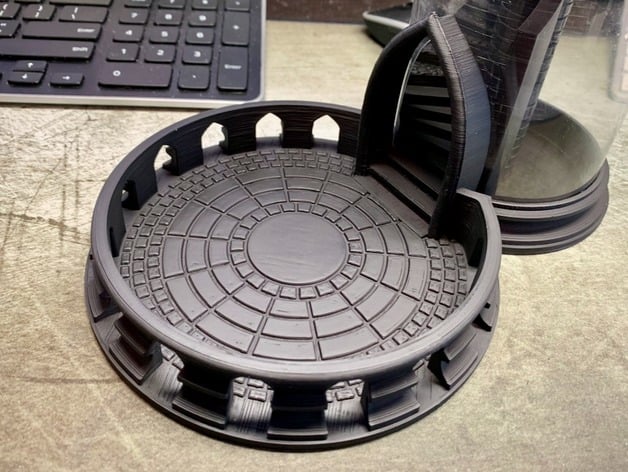 Or as the designer refers to it, "yet another dice tower tray".
You've already created dice to sell so why not combine those with a dice tower? Yes, there are a lot of these out there in different shapes and forms but you have to remember that not all gamers will have a 3D printer. The proliferation of dice tower print files therefore doesn't mean there will be a lack of buyers for a fully finished printed version.
Again, this is just an example of a nice dice tower and tray but you do have the license to adapt or "remix"  this model or indeed you could create your own design with this as inspiration.
Who designed it? Tim Mullen AKA Bloodstrike
Where is it? Thingiverse
Can I print and sell it? Yes. The licensed is CC BY so you can print and sell it as long as you give attribution to the original designer.
Son Goku Super Saiyan Blue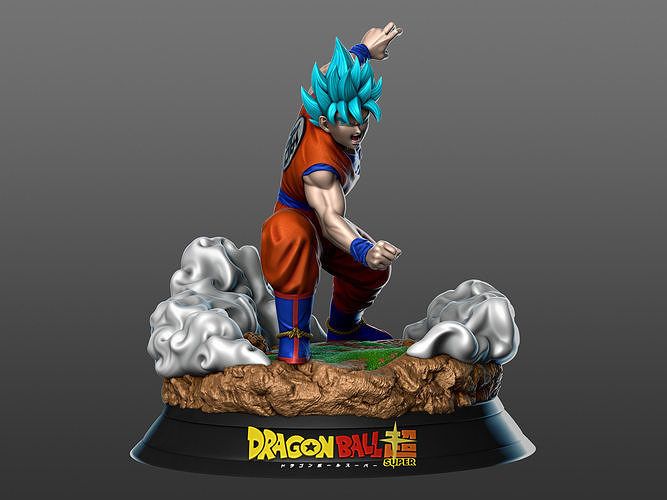 Now we move into the world of 3D printed figures and characters.
As with all the models I'm showing you, these are just examples of what you could download, print and sell. These are all deigns that have been created by others but as I've said, there is nothing to stop you from creating similar things to 3d print and sell.
This model is a great design and depicts Son Goku from Dragonball Z so would be desirable by any fan of the series if you were to offer it for sale. The difference with this file from the first two is that you need to pay to be able to download the 3D printable file. You therefore can't resell the file itself but you are allowed to print the model and sell it for commercial purposes.
Who designed it? Alvaren
Where is it? CG Trader (Cost: $15)
Can I print and sell it? Yes, but the printed model only and not the digital file.
These are just a very small example of what you could download and sell as designed by other creators. This is a quick way to get to the selling stage of the physical printed model but there are other things you can consider when looking for things to 3d print and sell.
The next stage would involve designing and creating your own models and objects so requires a knowledge of or aptitude for that area of the 3D printing genre. If you want nan idea of how to get started and also how to produce quality 3D prints then check out my articles "From Design to STL: A Step-by-Step Guide to Creating 3D Printing Files" and "The Beginner's Journey: A Comprehensive Guide to Making Your First 3D Print". There are also further articles coming soon about how to perfect your 3D printing skills.
Your Own Designs to Print and Sell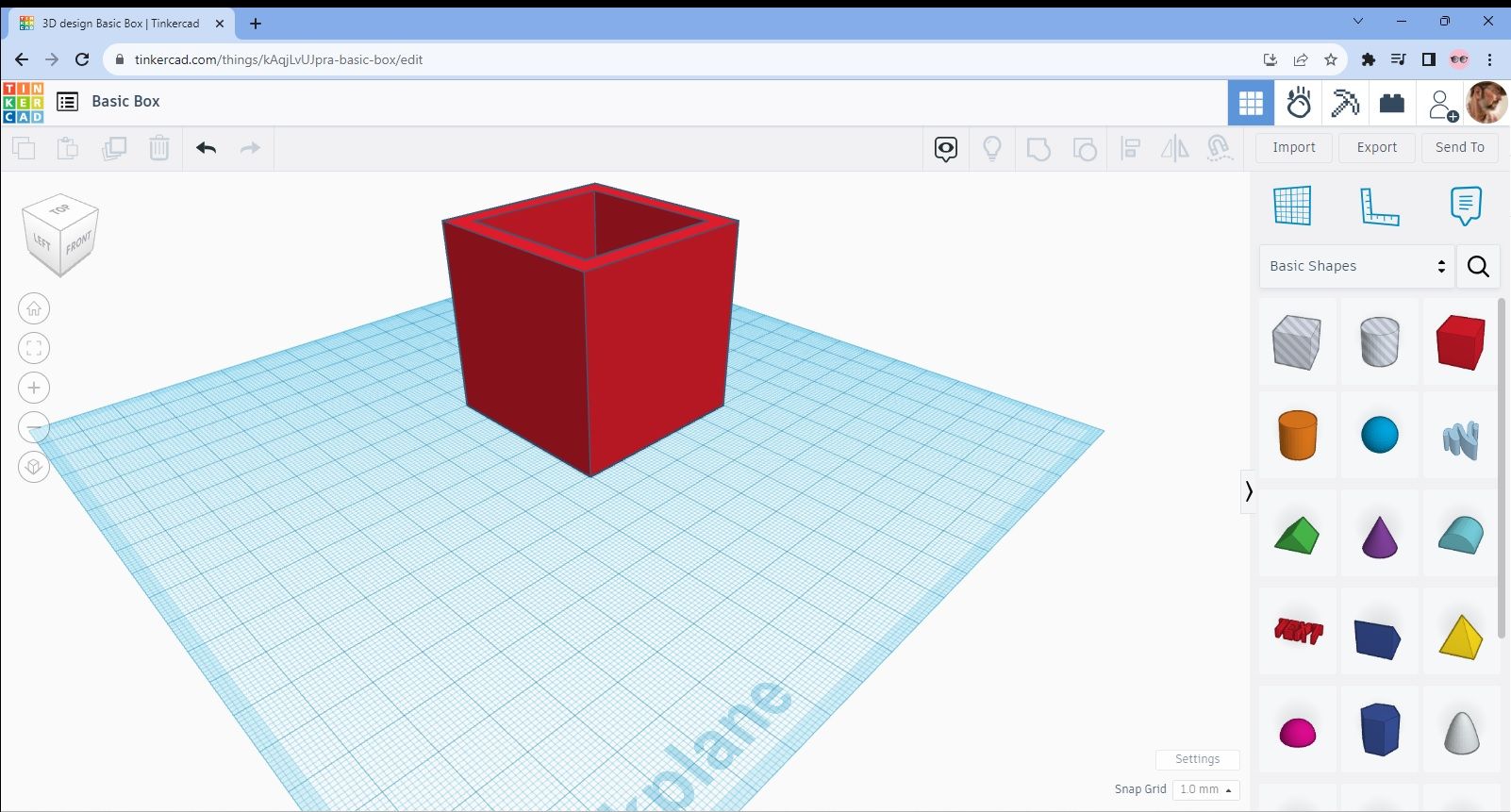 As is the case with anything that you're trying to sell, you need to try and find something that a lot of people will want to buy. This doesn't necessarily have a to be a groundbreaking or unique design but should certainly try and target a certain gap in the market.
So, let's now move on and look at a few ideas of things that are known to be good sellers and these will then hopefully inspire you to create and sell your own.
Keyrings
In the articles I mentioned earlier, I showed you how to create a design for a Geeky Inc keyring which was pretty simple but effective. This type of thing is great to 3d print and sell as it doesn't use much material, can be mass produced fairly quickly and will appeal as a cheap item for buyers.
You can of course go further with your design by replicating logos from games or Anime series or even offering personalization for your customers.
Fidget Toys
These became very popular a few years back and still remain that way.
Again, a fidget tool will be small and use minimal materials but that would of course depend on the design. The only difficult part of this kind of design is that to work, it needs to have moving parts. These could be incorporated into the overall print design or you could print the toy in pieces and then assemble it.
Fidget toys will again be fairly inexpensive to produce so can be sold at lower prices to attract more customers.
Figurines and statues
In the same vein as the Goku figure that I showed you earlier, you could create your own design of a popular gaming or Anime character or even or a famous person. This, as I mentioned near the start of this piece, would be best described as Fanart to avoid any copyright issues but if you're able to design and print quality items that people want, you can sell them for more money than the smaller items.
Aside from character Fanart, you could also look to print models of famous statues, landmarks, buildings or even entire cityscapes.
Replica Props and Cosplay Items
Cosplay is a lucrative area to get into if you can find something that is popular enough. A lot of Cosplayers are quite specific about the items they want and things like headgear and anything that varies in size would be difficult to maintain as a business.
However, replica weapons, jewellery and other props are things that don't need a size range so you can put some effort in to designing the best version of an item that you can. As well as using these for Cosplay, replica items make good display pieces so different print quality and material might come into play in the models that you're offering to sell.
Electronic Device and Gaming Accessories
I'm talking here about things like mobile phone and tablet stands, game controller stands and headset hangers to name a few. This type of item doesn't necessarily need to be unique in design as long as it does the job for which it's created.
If you look online for items of this type to buy on popular retail sites then you could spend a lot of money getting the right stand or holder for your needs. If as a 3D print seller you can offer a similar item for a fraction of the cost, then customers will be interested.
You could also offer custom or personalized designs to give that extra unique touch to your products that might make you stand out from the crowd.
Gaming Pieces
I've already looked at dice and dice towers but what about gaming miniatures and all the other associated pieces and accessories you might need for tabletop gaming?
This may need to be specific in nature for the figures possibly but things like scenery, buildings, counters and markers could be fairly generic and you can again offer unique items that can't be bought elsewhere, even in gaming stores. This way you'll hopefully build up a loyal customer base who will also recommend your items to others.
These are just a few ideas of things to 3D print and sell but let's now take a final look at a couple of other considerations that you may need to think about.
Costs, Pricing and Where to Sell
If you're looking to sell 3D printed items then you need to consider the selling price and of course, where to sell them.
Costs and Pricing
Selling price will come down to two main factors:
· Production cost: Things like materials, design time, printing time and your own time spent making the product will all have an impact on cost and in turn selling price
· What similar items sell for: If fidget toys for instance are generally for sale for $3 each, there's not much point in trying to sell yours for $5. Try selling for $2.99 even and offer bulk buy discounts to get customers interested.
Another way to get customers interested and maybe sell some of your "big ticket" items could be to offer a few different things for sale. Then, if you keep the selling price of the smaller items low and maybe even at cost price, this may attract people to your marketplace and get them buying the more expensive items.
Going back to cost, have a look at my article "Budgeting for Success: Understanding 3D Printing Material Costs" I attempted to work out how much an average 3D printed model costs to produce. The answer isn't necessarily definitive but you may be surprised by my findings.
With this in mind though, there is a way of calculating how much to sell an item for based on the time you spent making it and the cost of the materials. This is different to the figure I worked out as we're now talking about gross selling price.
The things you need to consider for pricing your items for sale are:
· Material cost: Defined by the weight/length of filament used
· Labor Time: Literally the time it takes to print the item combined with your design and post processing time
· Markup: How much profit you want to make. I would suggest 10% as a good starting point
How you define the cost of your own time is up to you but bear in mind you want to be competitive with pricing when your item goes up for sale. You also need to consider the cost of shipping and any packaging materials you need to buy.
Selling
There are a few obvious places to sell your 3D printed items online. Sites such as eBay and Etsy are good places to get exposure of your items and will also hit a global audience. As I just mentioned, shipping costs will be a factor with these sites and you need to consider that there will be fees to pay as well for selling through the platforms.
Facebook Marketplace is a free to use selling option and you can either keep it local and ask buyers to collect from you to save costs or you can widen the field and offer shipping at a cost to distance buyers.
Other places like local craft markets and conventions are also a good way to sell your items but again, you need to consider the fees that may be payable to have a "pitch" at the event.
And Finally
Hopefully this article will have given you some ideas of how and what to sell in the way of 3D prints. Whether this is from a file that you've downloaded from another creator or something you've designed yourself, there's money to be made by offering things to 3d print and sell.