Ian Mitchell, August 2023
Mobile gaming has become part of the fabric of the 21st century. Wherever you go or look there will surely be someone immersed in a game either on a handheld console or smartphone.
In this article I'll be giving you a bit of background on mobile gaming and how this has developed. More importantly though, I'll be looking at how you can utilize your 3D printing skills to make some awesome mobile and handheld gaming accessories.
A Bit of History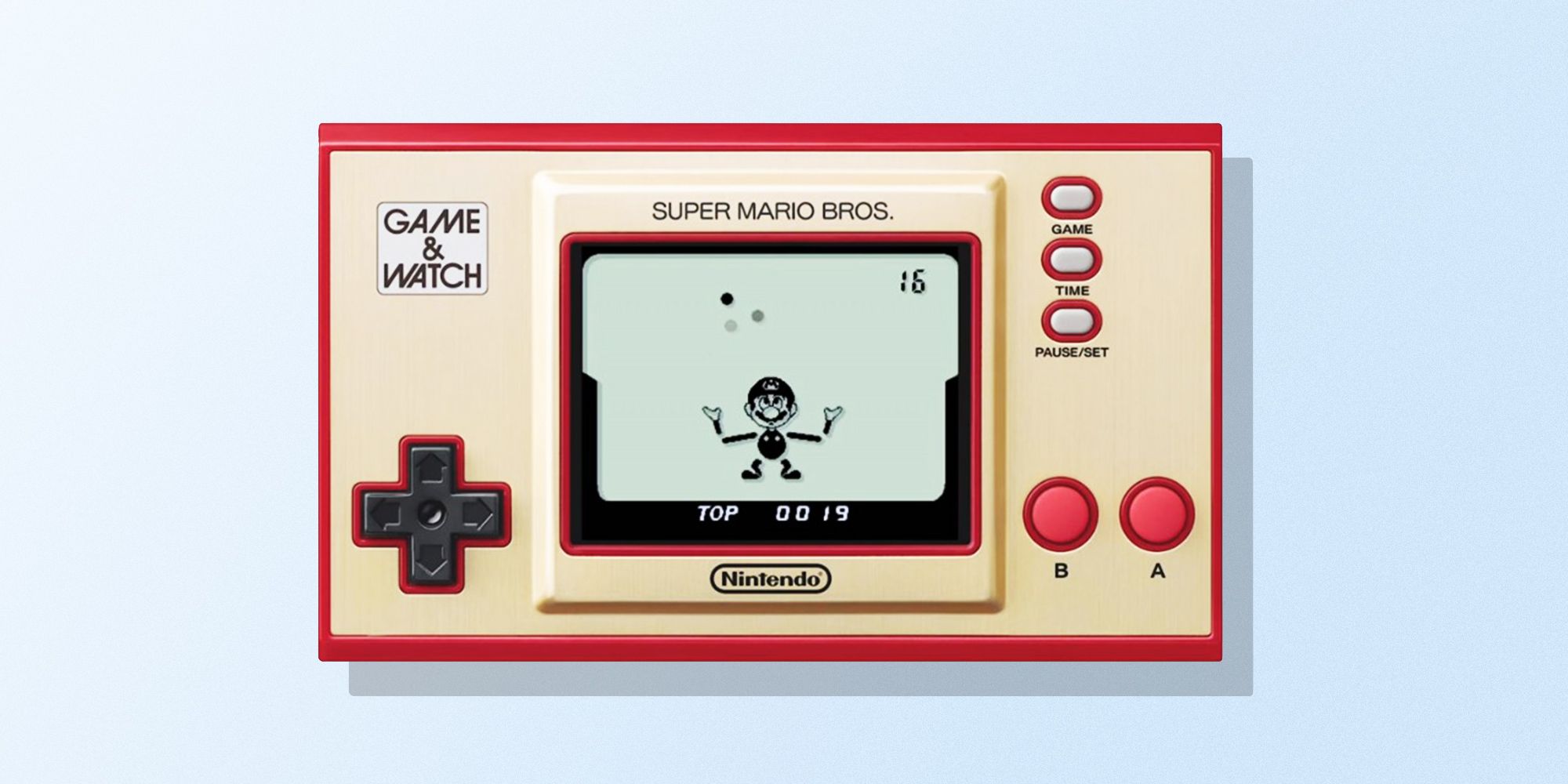 Technically I suppose, mobile gaming has been around for centuries as board games such as chess, card games and other games of chance would be considered to be mobile. Mobile gaming of the digital kind as we know it now though has been a part of our lives for decades.
With the early incarnations such as Nintendo's Game & Watch and Gameboy still being hailed as classics, right through to their newest system, the Switch, Nintendo have definitely been the flag bearers for this media. Sony too have been instrumental in recent decades with the PSP and Vita but these have lost popularity and traction with fans and more importantly buyers.
When Nintendo first looked at producing the Game & Watch it was in the 1970's as a response to the advent of arcade and home gaming systems in the USA. The head of Nintendo's R&D department, Gunpei Yokoi, observed a man playing with his calculator on a boring commute one day. This inspired him to look at a way to develop a handheld game which would fit in the same space as a calculator and hence the Game & Watch was born.
This innovation led to further development over the next decade or so until the Gameboy came into being. If you get the chance, take a look at the 2023 movie "Tetris" which gives you a great insight into how Nintendo managed to bag the rights to the Russian developed game during the Cold War. Without this, the Gameboy may have failed completely and we wouldn't be where we are today with mobile gaming.
As I mentioned earlier, Sony have had a major part to play in 21st century mobile gaming with the PSP and Vita. Unlike the Gameboy though, these were developed as kind of a mobile version of the PlayStation with game titles reflecting those already available on their flagship consoles. The PSP was essentially a short-lived venture in terms of this kind of tech, mostly due to the unique use of UMD "discs" as the main media on which to play games and watch movies. The Vita superseded the PSP as a result and was popular for a while but again lacked any really original games. Sony tried to market the Vita as an extension of the PlayStation as you could continue games away from the console and even use it as an extra console controller. However, they soon realized that their main customer base was with the PlayStation series so went back to focusing solely on that.
Nintendo ultimately did a similar thing and concentrated its efforts on the SNES but then along came the Wii which upped the game a bit. Initial reception of this was great, especially amongst parents who saw it as a way for their offspring to be more active while still enjoying console games. The Wii was developed into the Wii U which then saw the first real interaction between a static console and mobile gaming which Sony had tried to do. The Wii U came with a handheld device included and allowed easier game continuation away from the TV screen but was again not as popular as Nintendo had hoped.
We now though have the Nintendo Switch which combines the console-based gameplay that we're all used to, the more active interaction of Wii type games such as sports and exercise and a mobile gaming console. The difference with this part of the system though is that you can either play it like you would a regular handheld or you can play two player games by using it as a mini games console. This has made the Switch very popular so might just be the answer Nintendo has been looking for.
However, with the advent of the smartphone, mobile gaming is no longer limited to handheld consoles. There are literally thousands of different game apps that can be downloaded in a matter of seconds and the majority are free to play. This has opened up the world of mobile gaming to a new level and means that anyone can play a game of their choosing wherever and whenever they like.
The Need for Accessories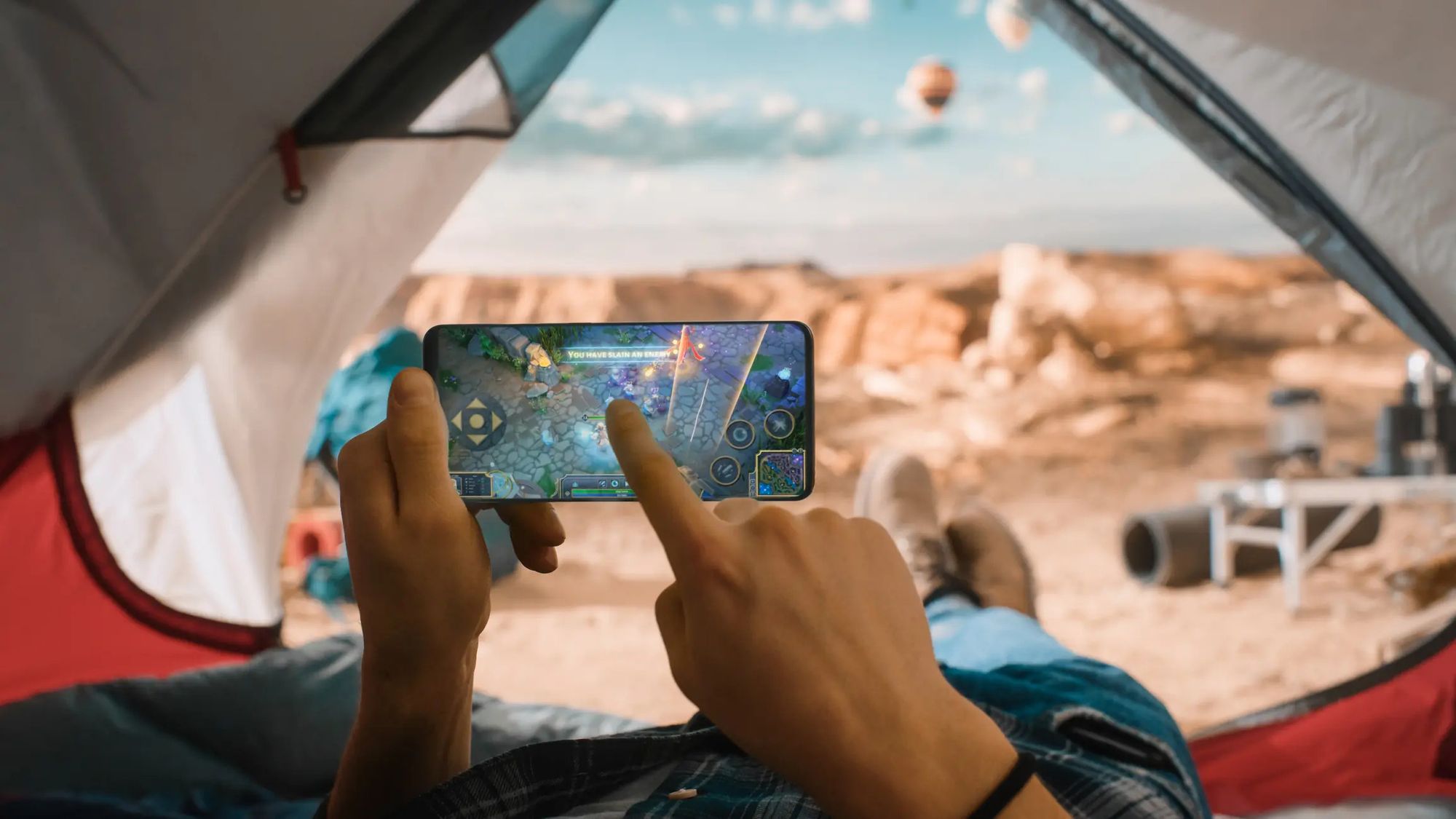 Whenever you're playing a game, you want it to be an enjoyable experience but also a comfortable one. If you're playing on your home console or PC for instance, that may just be a case of having the right chair setup and the monitor/TV in the right position. The game controller would also play a part however so you may want something that is comfortable and ergonomically suited to your particular style of play.
With mobile gaming, all these aspects are important (apart maybe from the monitor/TV) but you have the added obstacle, shall we say, of having to hold the whole setup in your hands. Not necessarily a bad thing as smartphones and tablets are pretty light but it's more about making the experience easier and maybe even improving your gameplay skills. Accessories then could give you the boost you need in your mobile gaming journey.
Before the advent of home 3D printing, this sort of accessory was limited to things you could buy and to be honest, were sometimes a bit of a waste of money. Let's then take a look at some accessories such as cases and extension to your handheld device as well as some simpler ideas in the way of stands or storage. All of the things I'm going to show you are 3D printable and readily available to download online.
3D Printed Accessories
Smartphone Accessories
The main area of accessories I'm going to cover are those that are designed to improve your grip and gameplay on your smartphone. Now, there are many different brands and models of smartphone out there and some of you may have the latest version but I'm aware that some of you may be a few steps back.
For instance, Apple and Samsung seem to produce a new iPhone and Galaxy models more regularly than day turns to night! That's an over exaggeration but hopefully you get my point. Therefore, I'm going to look at a few add-ons for the most popular brands which may or may not be suitable for the model of smartphone you own. However, once you get the idea of what you can print, you could either search online for the correct model, adapt one of the files I'll show you or even create your own design.
Ultimate iPhone/Universal Gaming/Cooling Controller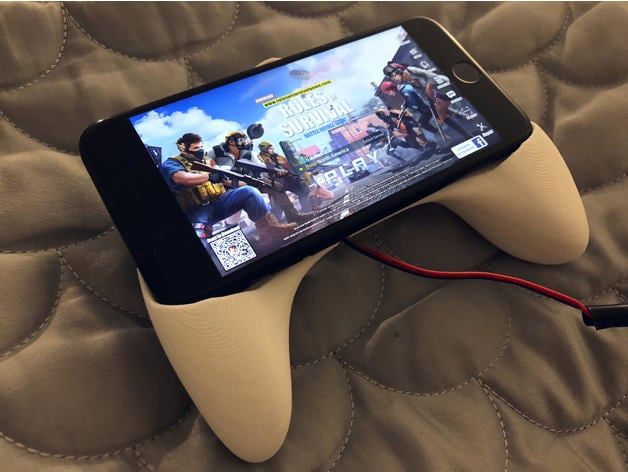 Let's start fairly simply with this one which basically turns your iPhone 6 or 7 into a controller similar to that of the Xbox. The designer, Grant Langley, has added a slot and vents at the back of the holder to allow for a small 40x40mm fan to be added and cool you phone. This would be the same as a hot end fan on a standard FDM printer such as the Creality Ender 3 and fairly cheap and easy to obtain.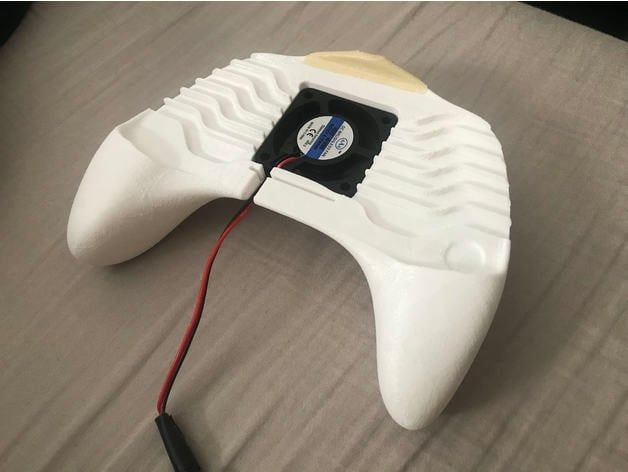 The holder adds stability to the grip of the phone and gives your thumbs more freedom to move and control the screen. The only downside I can see here is the fan which will need to be connected to a power source. This will make it unusable away from your home but still a good option to use if you're bored in your home office for instance. No additional comment need from me on that one!
The designer also states that this could be adapted as a universal phone holder with the addition of a clip. He's even added a hole to allow for the one he's designed or for your own design if you prefer.
The 3D printable file, including the universal clip, is available to download for free at Thingiverse.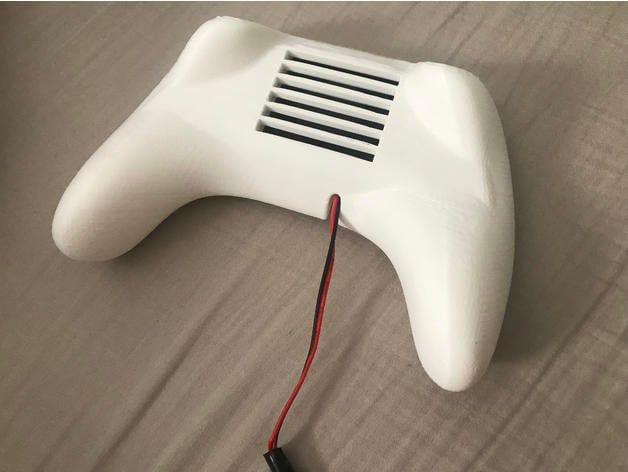 Joy Con Mobile Phone Holder Retractable Version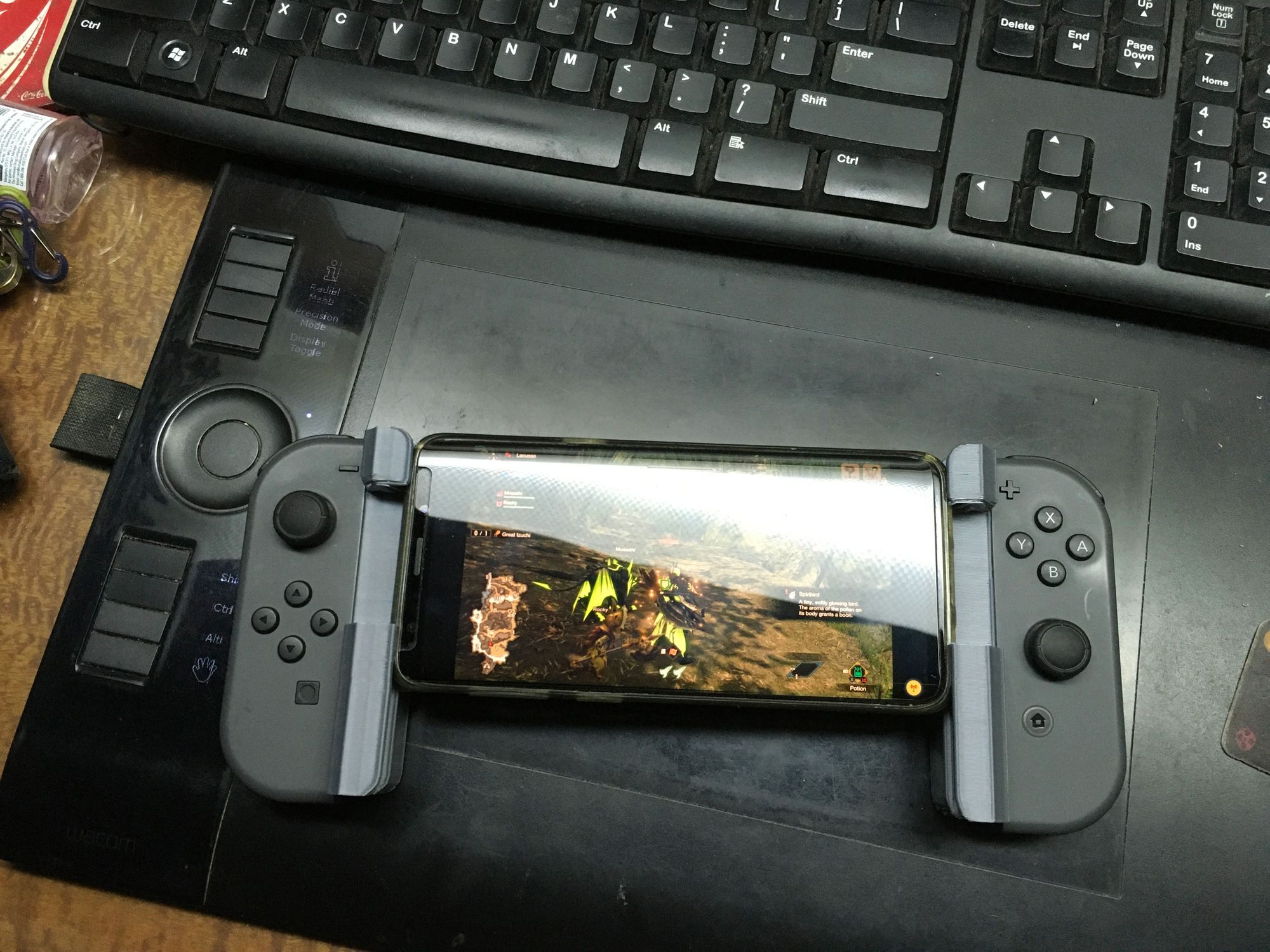 Now, we're moving back to the territory of the Nintendo Switch with this one. If you're lucky enough to own the console then you'll already be familiar with the Joy Con controllers that are used for the whole system. The good news is that these can now be used on the latest smartphones.
In the case of the iPhone, you'll need at least iOS 16 for this to work but basically, the controllers connect to your phone via Bluetooth. You can also use them on other phones such as the Samsung Galaxy at which this design is aimed. However, due to the ingenious construction, the adapter expands to allow for different phone sizes. If you want to know how to pair your phone with the Joy Cons then check out this handy guide.
As you'll see from the picture, the Joy Cons then slot down both sides to give you a compact and neat handheld machine. Of course, you may not have a Switch but fear not! You can purchase these separately from the console but they will sett you back about $75 for the original Nintendo ones or a third party, non-official set will be around $30-35.
This clever design has is the brainwave of Lacusso and the downloadable file for is available for free on Cults 3D. He's added all the info you need there and also produced this handy You Tube video to show you how to fully assemble the holder once you have the printed parts. All you need in addition is a strong rubber band and am M4x16mm bolt and nut.
Handheld Console Accessories
I've mentioned handheld consoles such as the Gameboy, PSP and PS Vita but obviously none of these are still in production. However, there were a vast amount of them produced and still being used today. The Gameboy alone sold over 118 million units! You can also pick one up fairly reasonably from online auction sites or gaming trade in stores.
With that in mind, there's a chance that you, the reader, may well own what is now classed as a retro gaming console so might want to 3D print something for it. Well, I've got your back on that one so let's have a look at a couple of designs that could help you improve your gameplay.
Ergonomic Grip for PS Vita (PCH-1000)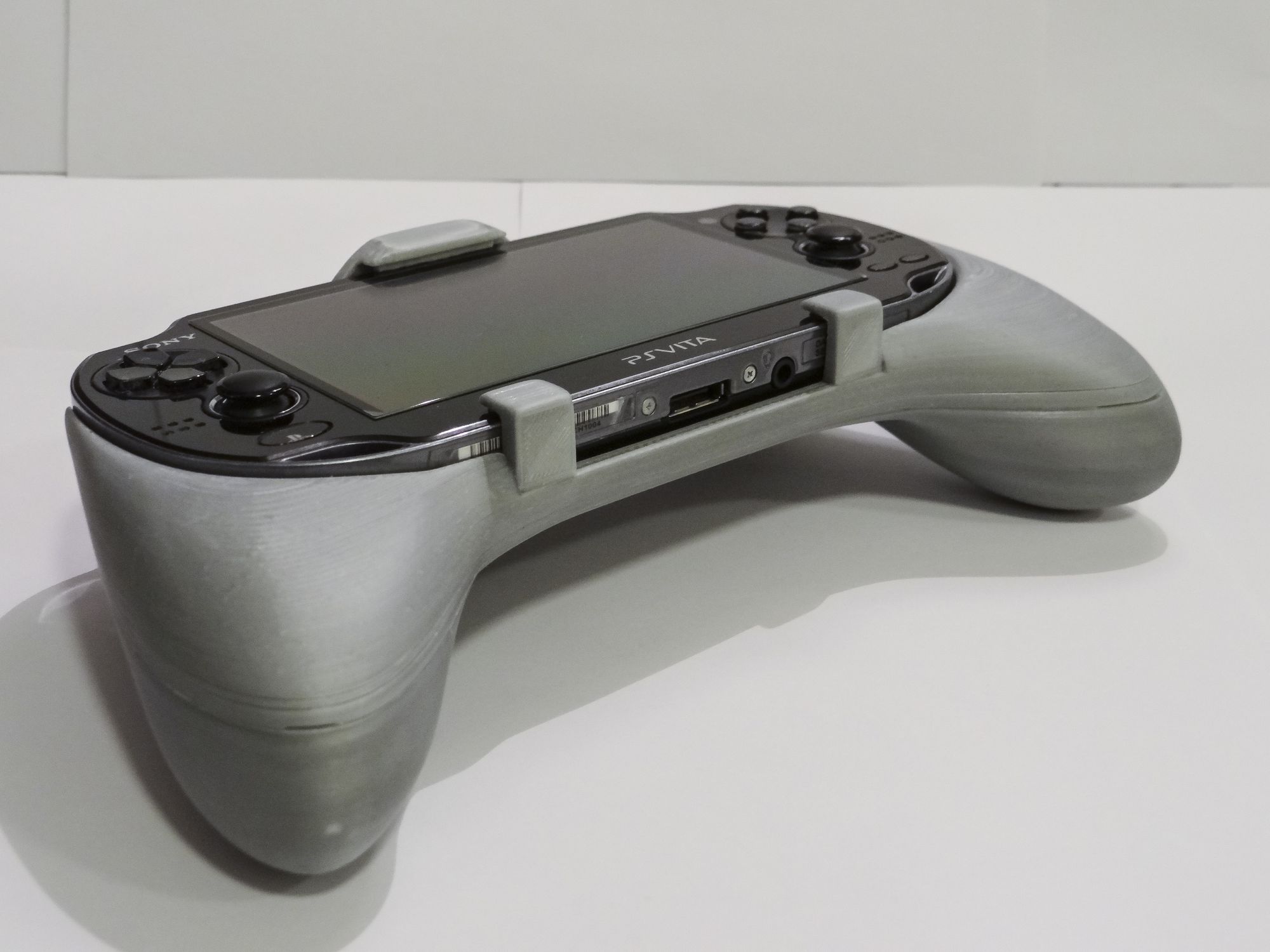 This is another simple design in the same vein as that of the smartphone holder we looked at before.
The purpose of this is to provide more of a gaming console controller feel to holding the ordinarily flat PS Vita, thereby making it feel more familiar to the PlayStation that you might be more used to. The holder fits neatly over the console and grips it tightly enough to make it stable but is also easy to remove if needed. The design also allows for all side triggers and top buttons to be accessed as a well as the micro-SD slot, headphone socket and power socket.
The design is pretty easy to print with the right orientation and the file can be downloaded for free on Cults 3D.
PSP 3004 Folding Sun Shield With Speaker Horns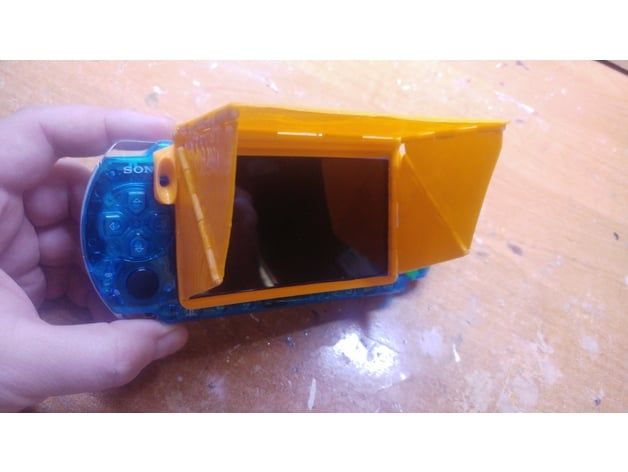 If you own or have ever owned a Sony PSP of any incarnation then you'll know that one of the big problems with it was that you couldn't use it outside in the sunlight!
I still have my original PSP and found this issue myself as I not only had games but wanted to watch movies on it as well. This was virtually impossible unless you were in a darkened room or had a seriously effective sunshade in your garden! Well this little design might be the answer to your prayers if you're still struggling to see the dark side.
The principal is simple as it basically fits onto the front of the console and folds out to create a shield. The shield can also be left in place as it folds away neatly and thereby acts as a screen protector for the PSP. Personally, I wouldn't print this in yellow or a similar light color as this will still let light through. Go for matt black in my opinion to get best results and show you mean business!
The printable file can be found and downloaded for free on Thingiverse.
Just For Fun
Computer Phone Stand
This isn't really a gaming accessory but as I was researching this article, I found this which I think would look pretty cool on your desk. As such, I thought it would be worth adding as an additional printing option for you.
The design is a representation of a desktop PC and allows for a smartphone to be held in place but with a bit of a twist. The designer has created a fascia which fits over the front of your phone while in situ. The clever bit is that they've also produced this YouTube video which syncs perfectly with the fascia to give the impression that the phone is a Mission Impossible or FBI style screen.
The 3D printable file and all instructions can be downloaded for free from Cults 3D.
It's of no particular use as a functional item but good fun and my younger, X Files obsessed self would have loved this!
Gameboy Advance Micro Display Stand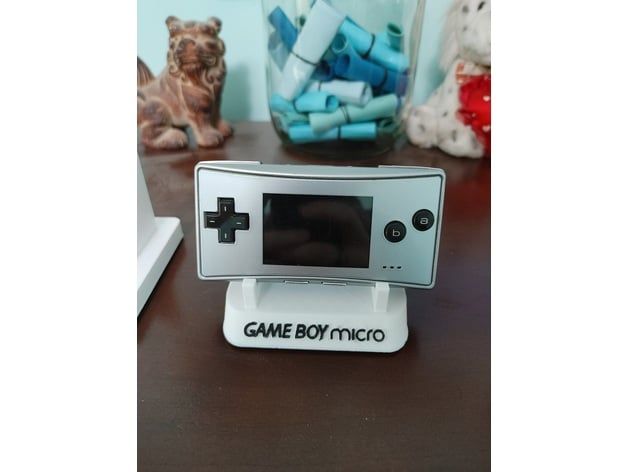 This again is just a bit of fun and a bit niche really if I'm honest.
The original Gameboy was legendary but Nintendo also tried to make smaller and more accessible versions of the console which didn't necessarily hit the mark. The Gameboy Advance Color was an exception as it sold well and allowed for some more advanced graphics to be included in games but does anyone remember the Gameboy Advance Micro? Anyone?? Well, if you do and if you actually own one then all props to you but they are not the most common thing you'll see.
However, I thought again that this might be amusing to add a stand specifically designed for the Micro so here it is! The file can be downloaded for free from Thingiverse if you actually need it!
And Finally…
I may not have shown you a massive number of different files and printable options for your mobile gaming but, as the man with the lettuce sticking out of his pocket said, this is just the tip of the iceberg.
There are a multitude of phone stands out there which you can print as well as different versions and designs of those that I've shown you. The main thing is to look for something that will enhance the use of your smartphone or handheld game console. If the original design you find online isn't exactly what you need then you can always adapt it to suit your own needs. Of course, you could always create your own design which would be beneficial if you own a device that isn't in the mainstream.
Whatever you decide to do, then enjoy the search and hopefully I've given you some pointers as to what you might be able to achieve.